My Learning Community
by Stacey Star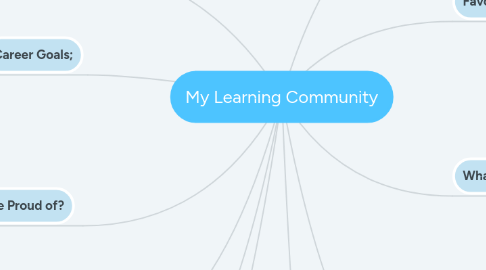 1. A skill that needs work?
1.1. Writing (Spelling & Grammer)
1.1.1. Math
1.2. Public Speaking
1.3. My Technology Skills Need Work.
2. Favouraite Way To learn?
2.1. Read, Write, Repeat
2.2. Interacting With Others Who Do Not Always Share The Same Point Of View.
2.3. I Love To Learn By Reading But Learn Best When Sharing Ideas And Thoughts With My Peers And Discussions With Teachers.
3. How Will You Reach Your Career Goal?
3.1. Perseverance, Resilience, Determination, Hard Work, Long Hours & Little Sleep.
3.2. By Learning As Much As Possible About Subjects That I'm Passionate About And Interest Me.
3.3. I Plan To Continue Learning And Developing New Skills While I Look Further Into The Career Options I Have. .
4. Career Goals;
4.1. Qualified Councillor
4.1.1. Further Study To Become Registered Psychologist
4.1.1.1. Own Successful Health & Wellness Blog
4.2. Social Worker
4.3. Help Others, Especially Young Adults and Children.
5. A Skill You Are Proud of?
5.1. Writing
5.2. Thinking Outside The Box
5.3. Managing Numerous Tasks.
6. What IS Your Main Interest?
6.1. I Love To Write & Learn About The Human Mind & Behaviour.
6.2. My Main Interest Is Understanding People From Different Walks Of Life And What Makes Them Tick While Giving Context And Understanding/moral To Someone's Story.
6.3. I Love Reading And Watching True Stories And Learning About Historical Events. I Am Passionate About Building Children And Young Adults Resilience And Ensuring They Have Adequate Skills to Work Through Any Difficulties They May Face.
7. What Motivates You?
7.1. My Family, Nature, Suffering & Injustice.
7.2. Evoking Positive Emotion In People Motivated Me
7.3. My Kids Motivate Me To Achieve My Career Goals So I Can Provide Them With The Best Future Possible And Show Them That Anything Is Possible.
8. List skills 1=Best &=Worst
8.1. 1.Writing 2.Source evaluation 3.Motivation 4.Public Speaking 5.Time mangement 6.Spelling and Grammar 7.Math
8.2. 1. Thinking outside the box 2. Understanding another perspective 3. Standing up for others 4. Listening/Empathising 5. Reassuring/taking care of others 6. Tech Savvy 7. Multi tasking 8. Thinking ambitiously 9. Public Speaking
8.3. 1. Being empathetic 2. Listening 3. Coping with life difficulties 4. Resilience 5. Effective communication 6. Concentrating on one thing at a time 7. Time management 8. Technology skills
9. Benny
10. Stacey
11. Sophie