SharePoint Site Instructional Goal Analysis: Advocate's for Human Potential (AHP) project staff will utilize the Virtual Solution (VS) department's SharePoint site to coordinate virtual events planning, execution and reporting with little to no help from VS employees
by Joe Manney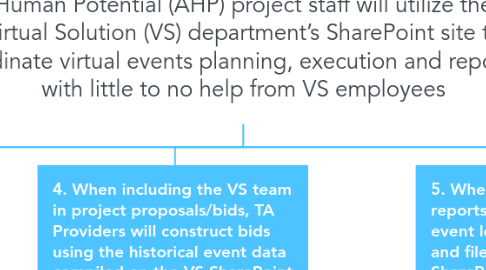 1. 1. When an event requires registration, TA Providers will complete the form located on the VS SharePoint site accurately and without assistance from a VS staff member.
1.1. Locate the forms
1.2. Identify three major event types
1.2.1. Determine event needs
1.3. Upload documentation to SurveyGizmo
1.4. Fill out and submit a Survey
2. 2. When scheduling virtual events and related activities, TA Providers will select slots from the VS SharePoint calendar that do not overburden staff or product licenses.
2.1. Locate the Calendar
2.2. Find open slots on the AHP Calendar
2.2.1. Determine Staffing Restrictions
2.2.2. Determine Licensing Restrictions
2.2.2.1. Review AHP Colorcoded system
2.3. Use an OutLook calendar
3. 4. When including the VS team in project proposals/bids, TA Providers will construct bids using the historical event data compiled on the VS SharePoint site.
3.1. Locate the VS Home Page
3.1.1. Find the "statistics" section
3.1.1.1. 3. When proposing virtual events to existing or potential clients, TA Providers will identify procedural and/or budget documentation in the VS SharePoint library that matches the specified event type.
3.1.1.1.1. Locate the Virtual Solutions Department Home Page
3.1.1.1.2. Access the Virtual Event Producers OneNote notebook
3.1.1.1.3. Roughly determine event needs based on Event Type
4. 5. When compiling post-event reports, TA Providers will filter event logs by Deltek number and file type in the VS SharePoint Event Log library.
4.1. Locate the VS Home Page
4.1.1. Locate the "Lets get started tab"
4.1.1.1. Select "Event Logs"
4.1.1.1.1. Review available statistics
4.1.1.1.2. Navigate to OneNote for more historical data
4.2. In the SharePoint Library, filter by deltek number.
4.2.1. Identify the appropriate document
4.2.1.1. Review available document types
4.2.2. Download a document in SharePoint
4.2.2.1. Download Multiple documents in SharePoint
5. 6. When developing products for events of Federal websites, TA providers will ensure final drafts meet WCAG 2.0 Accessibility standards.
5.1. Locate Video Library
5.1.1. Review Video Resources
5.2. Request 508 Compliance remediation
5.2.1. Locate 508 document library
5.2.1.1. Locate Request information