Teambetrokkenheid /teamrendement/teammanagement
by Veerle Depauw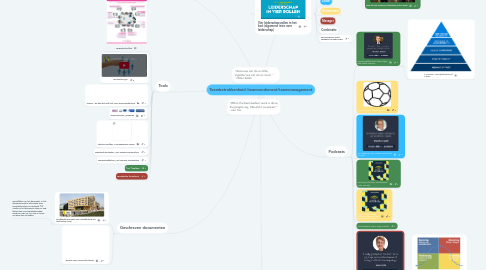 1. Podcasts
1.1. How to Get the Ideal Team Player, with Patrick Lencioni
1.1.1. P. Lencioni - Five dysfunctions of a team
1.2. Leiderschap op het voetbalveld
1.3. Turn Followers Into Leaders, with David Marquet
1.4. Zo haal je écht meer uit teamwork. Peter van Dijk
1.5. Zachte leiders maken stinkende wonden! Arvid Buit en Martin Appelo
1.6. Three Steps to Use in Every Conflict
1.7. How To Maximize Team Performance
1.7.1. Teamfases van Tuckman
2. Ted Talks
2.1. Forget the pecking order at work
2.2. Are you a giver or a taker?
2.3. How to turn a group of strangers into a team
3. Offline opleidingen
3.1. Opleidingscatalogus
3.1.1. Meer halen uit uw team met participatieve leiderschapstechnieken
3.1.2. Faciliteren van groepen
4. Geschreven documenten
4.1. Feedbackinstrument voor ontwikkeling van leiderschap (FIO)
4.1.1. Doorklikken op het document. In het document vind je informatie over teamleiderschap in paragraaf 1.4. Verder in het document staan er nog kleine tips voor teamleiderschap. Druk op CTRL en F en typ in 'team' om deze tips te vinden.
4.2. Recept voor succesvolle teams
5. Tools
5.1. Vergaderchecklist
5.2. Teamoefeningen
5.3. TeamQ - Dé doe-het-zelf tool voor Teamontwikkeling
5.4. Teamintervisies | jongeren
5.5. Talenten-Toolbox » Nieuwgierige vragen
5.6. Teamkarakteristieken | Het Nieuwe Teamwerken
5.7. Teamontwikkeling | Het Nieuwe Teamwerken
5.8. 1 on 1 toolbox
5.9. Teamdoelen formuleren
6. YouTube
7. "When the best leaders' work is done, the people say, 'We did it ourselves'." - Lao Tzu
8. "Alone we can do so little, together we can do so much." - Helen Keller
9. Vier leiderschapsrollen in het kort (algemene intro over leiderschap)
9.1. Coach
9.2. Leider
9.3. Ondernemer
9.4. Manager
9.5. Combinatie
9.6. GESCHREVEN TEKST LEIDERSCHAPSROLLEN