Costa Rica Support Levels Team
by jessy alvarado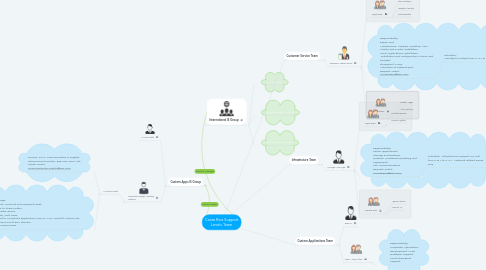 1. Custom Apps IS Group
1.1. VP: Paul Challe
1.2. Corporate Manager: Sandeep Hirekerur
1.2.1. IT Service Center
1.2.1.1. Service: 24X7, communication in English. Internacional number: 888-455-4357/ ext: 22600. Email: [email protected]
1.2.1.2. Coverage: Network Accounts and Password reset. Access to Share Folder. Sap Printer Issues. Outlook Vault Issue. Support to Corporate application: PRIMO, SAP, Winchill, Kronos, etc. Thin client out of BSC domain. VPN Access Issues.
2. Customer Service Team
2.1. Supervisor: Tobias Umana
2.1.1. Coyol Team:
2.1.1.1. Glen Solorzano
2.1.1.2. Jesseylis Alvarado
2.1.1.3. Richard Badilla
2.1.2. Responsibility: Repair and Maintenance: Laptops, Desktop, Thin Clients and Printer installation. Local Applications Installation. Installation and configuration: Phone and headset. Sharepoint Acces. Activation of network port. Request Ticket: [email protected]
2.1.2.1. Schedule: Monday to Fridays from 6 AM to 5 PM.
2.1.3. Heredia Team:
2.1.3.1. Jennifer Vargas
2.1.3.2. Victor Sanchez
3. Infrastruture Team
3.1. Manager: Luia Mejia
3.1.1. Coyol Team:
3.1.1.1. Michael Espinoza
3.1.1.2. Mauricio Ugalde
3.1.2. Responsibility: Server applications, Storage and Backups. Network Maintenance(cabling and equipment) Site Communications. Request Ticket: [email protected]
3.1.2.1. Schedule: Infrastructure Support On Call from 6 PM to 6 AM. Network related issues only.
3.1.3. Heredia Team
3.1.3.1. Ignacio Abarca
3.1.3.2. Samuel XX
4. International IS Group
4.1. VP:T om Woehrle
4.2. Corporate Director: Jan Smets
4.3. Regional Manager: Luis Mejia
5. Custom Applications Team
5.1. Boss:XX
5.2. Team: Vianey Alfaro
5.2.1. Responsibility: Corporate Aplications development. Local Database Support. Local Sharepoint Support.