RockChurchFargo.com Christlike Tolerance
by Scott Kruse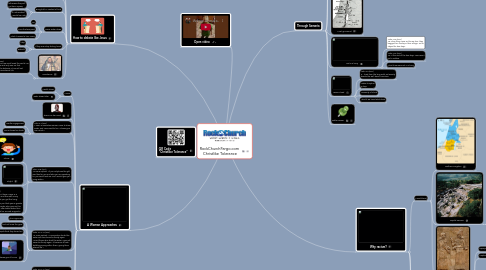 1. Through Samaria
1.1. John 4:4–5 (NLT) 4 He had to go through Samaria on the way. 5 Eventually he came to the Samaritan village of Sychar, near the field that Jacob gave to his son Joseph.
1.2. John 4:6 (NLT) 6 Jacob's well was there; and Jesus, tired from the long walk, sat wearily beside the well about noontime.
1.3. Normally
1.3.1. Through Perea
1.3.2. East of Jordan
1.3.3. To get to Galilee
1.4. Most go around
1.5. Not in a hurry
1.5.1. John 4:40 (NLT) 40 When they came out to see him, they begged him to stay in their village. So he stayed for two days,
1.5.2. John 4:43 (NLT) 43 At the end of the two days, Jesus went on to Galilee.
1.5.3. What if we were not in a hurry
1.6. Jesus is tired
1.6.1. John 4:6 (NLT) 6... tired from the long walk, sat wearily beside the well about noontime.
1.6.2. Judea to sychar 2 days
1.6.3. Humanity of Christ
1.6.4. What if we loved while tired
1.7. Better reason
2. Why racism?
2.1. Mixed blood
2.1.1. Northern Kingdom
2.1.2. Capital Samaria
2.1.2.1. Conquered by Assyrians
2.1.3. King Sargon of Assyra
2.1.3.1. Repopulated Northern Kingdom
2.1.3.2. Captives from other places
2.2. Judean Jews
2.2.1. From Judah
2.2.2. Thought Samaritan Jews
2.2.2.1. Betrayed by intermarrying
2.2.2.2. Hatred passed down
2.3. See it
2.3.1. Ezra 4:1-6 Samritans called enemies
2.4. Different place of Worship Mount Gerizim
3. A Woman Approaches
3.1. Unusal
3.1.1. 2 wells closer
3.1.2. Water drawn later
3.2. Shame on her mind
3.3. John 4:7 (NLT) 7 Soon a Samaritan woman came to draw water, and Jesus said to her, "Please give me a drink."
3.3.1. Gentle engagement
3.3.2. vs 8-9 shows her shock
3.4. John 4:10 (NLT) 10 Jesus replied, "If you only knew the gift God has for you and who you are speaking to, you would ask me, and I would give you living water."
3.4.1. Clever
3.4.2. Playful
3.4.3. Confused she says John 4:11–12 (NLT) 11 "But sir, you don't have a rope or a bucket," she said, "and this well is very deep. Where would you get this living water? 12 And besides, do you think you're greater than our ancestor Jacob, who gave us this well? How can you offer better water than he and his sons and his animals enjoyed?"
3.5. John 4:13–14 (NLT) 13 Jesus replied, "Anyone who drinks this water will soon become thirsty again. 14 But those who drink the water I give will never be thirsty again. It becomes a fresh, bubbling spring within them, giving them eternal life."
3.5.1. She is ignorant
3.5.2. Did not know the giver
3.5.3. People think they know him
3.5.3.1. They don't
3.5.4. Yes please give it to me!
3.5.4.1. John 4:15 (NLT) 15 "Please, sir," the woman said, "give me this water! Then I'll never be thirsty again, and I won't have to come here to get water."
3.5.4.2. Safety reached
3.5.4.3. Relationship grounded
3.6. John 4:16–17 (NLT) 16 "Go and get your husband," Jesus told her. 17 "I don't have a husband," the woman replied. Jesus said, "You're right! You don't have a husband—
3.6.1. Wait, What, Harsh
3.7. John 4:18 (NLT) 18 for you have had five husbands, and you aren't even married to the man you're living with now. You certainly spoke the truth!"
3.8. John 4:23 (NLT) 23 But the time is coming—indeed it's here now—when true worshipers will worship the Father in spirit and in truth. The Father is looking for those who will worship him that way.
3.8.1. Lays out Gospel
4. QR Code "Christlike Tolerance"
5. How to debate like Jesus
5.1. Start with unconditional love
5.2. Be playful, fun
5.3. Be shrewd, clever, engaging
5.4. Bring truth in context of trust
5.4.1. Otherwise they will not hear anyway
5.4.2. If rude worked I would be rude
5.5. Never water down
5.5.1. Sin
5.5.2. Price that was paid
5.5.3. What it means to love Jesus
5.6. If they ever stop feeling loved
5.6.1. Stop
5.6.2. Rebuild
5.7. Nicodemus
5.7.1. John 3:16 (NLT) 16 "For this is how God loved the world: He gave his one and only Son, so that everyone who believes in him will not perish but have eternal life.
6. Open video