Nicky's ePortfolio
by Nicky Lau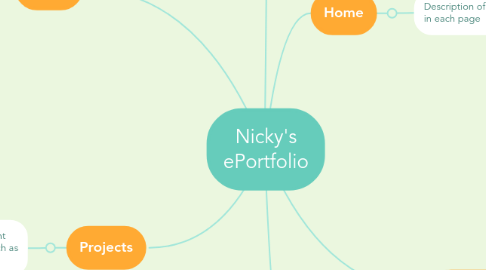 1. Home
1.1. Description of the website, what is located in each page
1.1.1. Digital Logo: I will include project logo on all pages of website
1.1.2. QR Code Project: I will include a QR code
1.1.3. Podcast: Will include a relevant podcast on creative writing to capture people's attnetion.
1.1.4. Animation: Animation project to capture people's attention
1.1.5. Google Form: So people can submit form on who they are/why they are viewing website
1.1.6. Screenshot: Screenshot on how to navigate website
1.1.7. Screencast Presentation: On how to navigate website
1.1.8. App prototype: Project will hopefully help with easier website navigation.
2. About
2.1. About page will include a brief biography of me, a photo of me, current schooling, and noteworthy achievements.
2.1.1. Digital Photo Editing: I will include this project to enhance photos of me/biography as needed.
2.1.2. Infographic about me, achievements etc
2.1.3. Digital Story Video: An about me, digital story video will be made. Making it more interesting for viewers of the website to learn.
2.1.4. Cover Letter and Resume: Will go into the About me section, so people can see accomplishments and work experience if they wish
3. Contact
3.1. Where to find me, (Email, current school)
3.2. Social Media: Social Media aspect so people can follow me
4. Projects
4.1. Writing Portfolio will include different projects I have done in the past, such as essays, creative writing, and poetry.
4.1.1. Poll: Poll project will be included, so people can vote for which projects they liked the most
4.1.2. Collaborative Tool: Include a collaborative tool here so people can discuss the writing portfolio
4.1.3. Social Media Ppt: Will go under projects as a viewable project
4.1.4. Emerging Technologies Blog: Project will go here as it falls under a writing portfolio (blogging is still writing)
5. Reference
5.1. Reference page will include cited sources, for images,
6. Tag Line
6.1. Site Statement of Purpose: To inspire others through my writing