From the text, "Learning theories describe how people learn. Different theories of learning offer different descriptions of the learning process; however, they each describe how learning occurs. There are three major categories of learning theories that we typically look at – behaviorism, cognitivism, and constructivism."
by Ellen Kehoe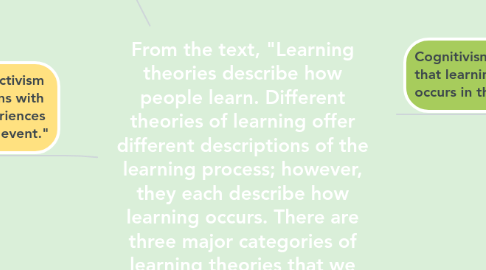 1. behaviorism, "learning results in observable changes in behavior and that those changes in behavior are developed over a period of time as a result of consequences associated with correct or incorrect behaviors."
1.1. Ivan Pavlov, know greatly for his work with classical conditioning in the mid 1800-1900's.
1.2. John Watson established the school of behaviorism. Also known for The "Little Albert" experiment.
1.3. Edward Thorndike, his research helped lead to the founding of operant conditioning. He was known for "introducing the concept of reinforcement".
1.4. B.F. Skinner, was the one who proposed the idea of operant conditioning. He based his work off the ideas of Thorndike.
1.5. Clark L. Hull, known for The Reinforcement theory of learning. His ideas were based of the theories above.
2. Cognitivism, "Cognitivism asserts that learning is something that occurs in the brain of the learner."
2.1. Robert Gagne, known for his conditions of learning which identified mental learning conditions.
2.2. John Carroll, proposed a theory about 3 levels of cognition called the "Three Stratum Theory"
2.3. Edgar Dale, created the Learning Pyramid or "cone of learning".
2.4. Albert Bandura, known for the "Social Learning Theory", which states that "people learn from on another, via observation, imitation, and modeling.
2.5. Jean Piage, he focused on the education of children. Is known for his theory "Piaget's Theory", which focuses on how children's cognitive development.
3. Constructivism, "Constructivism claims that learning begins with the knowledge and experiences the learner brings to the event."
3.1. John Dewey, know for his theory that believed we learn from a "hands on" method.
3.2. Jerome Bruner, his theory stated that "learning is active, meaning we construct new ideas based on current and past knowledge".
3.3. Lev Vygotsky, "Vygotsky's theory". "He believed that social interaction plays a critical role in children's learning. Through such social interactions, children go through a continuous process of learning".
3.4. John D. Bransford, has a PHD in cogitative learning. He has written multiple books. His studies "helped shaped the "cognitive revolution".
3.5. Ernst von Glasersfeld, philosopher who worked on many books and theories, He has won several awards. He collaborated his studies with others such as Vico, Piaget, and more.