7 Steps to Help Figure Out If an Expensive Conference Is Worth Going To
by Danny Forest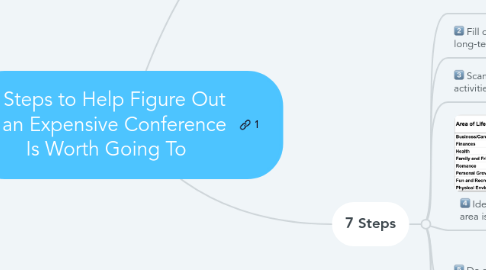 1. What makes a conference worth going to?
1.1. 1. Am I in the right place in my life where I'll be able to apply what I've learned?
1.2. 2. Am I going to have time to implement all the things that I've learned?
1.3. 3. Am I going to make my money back?
2. 7 Steps
2.1. Fill out your current Wheel of Life
2.2. Fill out your ideal short-term and long-term Wheel of Life
2.3. Scan and analyze the seminar's activities and speaker profiles
2.4. Identify how much each increment of an area is worth for you
2.5. Do some simple math to figure out if it's worth your money
2.5.1. Analyze the conference's info and identify how you can improve the above areas in the short-term
2.5.2. Sum up the totals
2.6. Make sure the value you can get aligns with what you wanted to improve
2.7. Is the event worth it?
2.7.1. Worth it: Value - Price > 0
2.7.2. Not worth it: Value - Price < 0
2.7.3. Maybe worth it: Value - Price < 0, but not by much