The Glory of Heaven
by Scott Kruse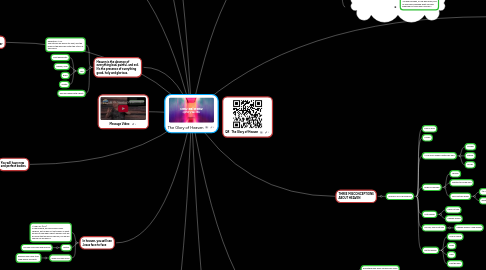 1. It's the absence of everything. evil and the presence of of everything good.
1.1. Everything you enjoy comes from God!
1.2. Taste buds
1.3. Ability see beauty
1.4. Capacity for Joy
1.5. Laugh
1.6. Love!
1.7. What you love and enjoy on earth
1.8. You will love and enjoy heaven
1.9. Except
1.9.1. There will be
1.9.1.1. No Sin
1.9.1.2. No Shame
1.9.1.3. No Evil
1.9.1.4. No Pain!
1.9.2. It's the absence of everything. evil and the presence of of everything good.
2. QR The Glory of Heaven
3. The Series
3.1. Life After Death
3.2. The Horrors of Hell
3.3. The Glory of Heaven
3.4. What you believe about eternity will determine how you live today
3.4.1. 1 Cor 2:9 NLT "No eye has seen, no ear has heard, and no mind has imagined what God has prepared for those who love him."
4. THREE MISCONCEPTIONS ABOUT HEAVEN
4.1. HEAVEN WILL BE BORING
4.1.1. Devil is a liar
4.1.2. Lucifer
4.1.3. 1 of 3 Arch-Angels created by God
4.1.3.1. Michael
4.1.3.2. Gabriel
4.1.3.3. Lucifer
4.1.4. Angel of Worship
4.1.4.1. Heaven
4.1.4.2. Wanted to be like God
4.1.4.3. God cast him down
4.1.4.3.1. 1/3 of angles went with him
4.1.4.3.2. What we know as demons today
4.1.5. Lost heaven
4.1.5.1. Hell's not real
4.1.5.2. Heaven boring
4.1.6. He Lies, Hell is not real
4.1.6.1. Heaven boring—God boring
4.1.7. Get to heaven
4.1.7.1. Line in clouds
4.1.7.2. Robe
4.1.7.3. Harp
4.1.7.4. Play the harp
5. We will know one another, love and be loved
5.1. 1 Cor 13:12 Now we see things imperfectly, like puzzling reflections in a mirror, but then we will see everything with perfect clarity. All that I know now is partial and incomplete, but then I will know everything completely, just as God now knows me completely.
5.1.1. Moses
5.1.2. Paul
5.1.3. Jesus
5.1.4. Eve
5.2. Reunited with loved ones knew Christ
5.3. Lost Child
5.3.1. Close Friend
5.3.2. Relative
5.3.3. No betrayal
5.4. Hurt
5.5. Perfect love
6. Heaven will be a place of unimaginable beauty
6.1. Revelation 21:15 15 The angel who talked to me held in his hand a gold measuring stick to measure the city, its gates, and its wall.
6.2. Revelation 21:16-17 When he measured it, he found it was a square, as wide as it was long. In fact, its length and width and height were each 1,400 miles. 17 Then he measured the walls and found them to be 216 feet thick (according to the human standard used by the angel).
6.3. Revelation 21:18-19 18 The wall was made of jasper, and the city was pure gold, as clear as glass. 19 The wall of the city was built on foundation stones inlaid with twelve precious stones: the first was jasper, the second sapphire, the third agate, the fourth emerald,
6.4. Revelation 21:20 The fifth onyx, the sixth carnelian, the seventh chrysolite, the eighth beryl, the ninth topaz, the tenth chrysoprase, the eleventh jacinth, the twelfth amethyst.
6.5. Revelation 21:21-22 21 The twelve gates were made of pearls—each gate from a single pearl! And the main street was pure gold, as clear as glass. 22 I saw no temple in the city, for the Lord God Almighty and the Lamb are its temple.
6.6. New Colors
6.6.1. Sounds
6.6.2. astes
6.6.3. Sensations
6.7. Mountains
6.7.1. Beaches
6.7.2. Canyons
6.7.3. Uncaged animals
6.7.4. Zoo
6.8. Most beautiful place on earth
7. In heaven, you will see Jesus face to face
7.1. r1 John 3:2 (NLT) 2 Dear friends, we are already God's children, but he has not yet shown us what we will be like when Christ appears. But we do know that we will be like him, for we will see him as he really is.
7.2. History
7.2.1. No man could see God and live
7.3. When you see Jesus
7.3.1. Realized you never truly lived before moment!
8. You will have new and perfect bodies.
8.1. 1 Cor 15:35-36 But someone may ask, "How will the dead be raised? What kind of bodies will they have?" 36 What a foolish question! When you put a seed into the ground, it doesn't grow into a plant unless it dies first.
8.2. 1 Cor 15:37-38 And what you put in the ground is not the plant that will grow, but only a bare seed of wheat or whatever you are planting. 38 Then God gives it the new body he wants it to have. A different plant grows from each kind of seed.
8.3. 1 Corinthians 15:39-40 Similarly there are different kinds of flesh—one kind for humans, another for animals, another for birds, and another for fish. 40 There are also bodies in the heavens and bodies on the earth. The glory of the heavenly bodies is different from the glory of the earthly bodies.
8.4. Malachi 4:2 2 "But for you who fear my name, the Sun of Righteousness will rise with healing in his wings. And you will go free, leaping with joy like calves let out to pasture.
8.5. Isaiah 35:5-6 5 And when he comes, he will open the eyes of the blind and unplug the ears of the deaf. 6 The lame will leap like a deer, and those who cannot speak will sing for joy! Springs will gush forth in the wilderness, and streams will water the wasteland.
9. Heaven is the absence of everything bad, painful, and evil. It's the presence of everything good, holy and glorious.
9.1. Revelation 21:24 The nations will walk in its light, and the kings of the world will enter the city in all their glory.
9.2. Job
9.2.1. Most passionate
9.2.2. Garden, Sing
9.2.3. Build
9.2.4. Create
9.3. Rule and Reign with Christ!
10. Whatever you can imagine—Heaven is better
10.1. No more
10.1.1. Death
10.1.2. Pain
10.1.3. Sorrow
10.1.4. Sckness
10.1.5. Fear
10.1.6. Stres
10.1.7. Anxiety
10.1.8. sleepless nights
10.2. Betrayal
10.2.1. Abuse
10.2.2. Heartache
10.2.3. Divorce
10.3. Disease
10.3.1. Violence
10.3.2. Injustice
10.3.3. Racism
10.4. Boring?
10.4.1. Heaven is the opposite of boredom.It's the absence of evil and the presence of God!
11. THIS WORLD IS NOT YOUR HOME
11.1. Philippians 3:19-20 ... they think only about this life here on earth. 20 But we are citizens of heaven, where the Lord Jesus Christ lives. And we are eagerly waiting for him to return as our Savior.
11.2. our life is a mist
11.2.1. How I love
11.2.2. What I give
11.2.3. What I say
11.2.4. 10,000 year rule
11.3. 2 Corinthians 4:18 So we don't look at the troubles we can see now; rather, we fix our gaze on things that cannot be seen. For the things we see now will soon be gone, but the things we cannot see will last forever.
12. MOST PEOPLE ARE GOING TO HEAVEN ANYWAY
12.1. 72% Americans believe in heaven
12.2. defined as a place "where people who have led good lives are eternally rewarded.
12.3. Wide is the path
12.3.1. Not default destination
12.4. Good people don't go to heaven
12.4.1. Forgiven
13. The Gospel
13.1. Romans 3:23 (NLT) 23 For everyone has sinned; we all fall short of God's glorious standard.
13.2. Romans 3:24 (NLT) 24 Yet God, in his grace, freely makes us right in his sight. He did this through Christ Jesus when he freed us from the penalty for our sins.
13.3. Romans 3:25 25 For God presented Jesus as the sacrifice for sin. People are made right with God when they believe that Jesus sacrificed his life, shedding his blood
14. A Worm going to Disney World
14.1. John 14:1 (NLT) 1 "Don't let your hearts be troubled. Trust in God, and trust also in me.
14.2. John 14:2 (NLT) 2 There is more than enough room in my Father's home. If this were not so, would I have told you that I am going to prepare a place for you?
14.3. John 14:3 (NLT) 3 When everything is ready, I will come and get you, so that you will always be with me where I am.
14.4. John 14:4 (NLT) 4 And you know the way to where I am going."
14.5. John 14:5 (NLT) 5 "No, we don't know, Lord," Thomas said. "We have no idea where you are going, so how can we know the way?"
14.6. John 14:6 (NLT) 6 Jesus told him, "I am the way, the truth, and the life. No one can come to the Father except through me.
14.7. Revelation 21:1 (NLT) 1 Then I saw a new heaven and a new earth, for the old heaven and the old earth had disappeared. And the sea was also gone.
14.8. Revelation 21:2 (NLT) 2 And I saw the holy city, the new Jerusalem, coming down from God out of heaven like a bride beautifully dressed for her husband.
14.9. Revelation 21:3 (NLT) 3 I heard a loud shout from the throne, saying, "Look, God's home is now among his people! He will live with them, and they will be his people. God himself will be with them.
14.10. Revelation 21:4 (NLT) 4 He will wipe every tear from their eyes, and there will be no more death or sorrow or crying or pain. All these things are gone forever."
14.11. Revelation 21:5 (NLT) 5 And the one sitting on the throne said, "Look, I am making everything new!" ...
14.12. Revelation 21:7 (NLT) 7 All who are victorious will inherit all these blessings, and I will be their God, and they will be my children.
14.13. I am destined to fail today
14.13.1. What is it not?