CHAPTER 2: STRUCTURE AND DEVELOPMENT PROCESS OF THE BOARDS
by Hanani Amirah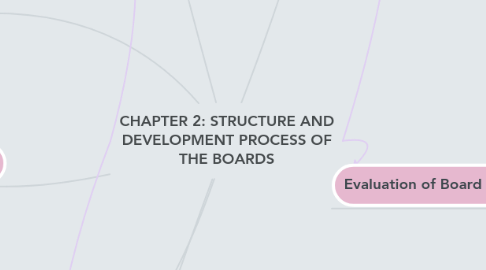 1. Financial Reporting Council's Guidance on Board Effectiveness stated that: 'An effective board develops and promotes its collective vision of the company's purpose, its culture, its values and the behaviors it wishes to promote in conducting its business.
2. Sec 2 of CA 2016:Director includes any person occupying the position of director of a corporation by whatever name called and includes : a person in accordance with whose directions or instructions the majority of directors of a corporation are accustomed to act and; an alternate or substitute director.
3. Categories of Directors:
3.1. Executive director
3.2. Managing director
3.3. Non-Executive director
3.4. Independent director
3.5. Alternate director
3.6. Associate director
4. Board structure
4.1. unitary
4.1.1. single board
4.1.1.1. executive director
4.1.1.1.1. NEDs
4.2. two tier (dual)
4.2.1. two boards
4.2.1.1. management board (lower tier)
4.2.1.1.1. supervisory board ( upper tier
5. Splitting the role of chairman & CEO
5.1. CHAIRMAN
5.1.1. Ensure that the board sets and implements the company's direction and strategy effectively, and
5.1.2. Act as the company's lead representative, explaining aims and policies to the shareholders.
5.2. CEO
5.2.1. Take responsibility for the performance of the company, as determined by the board's strategy
5.2.2. Report to the chairman and/or board of directors
6. Board Commitee
6.1. The Listing Requirements has made compulsory for all public listed companies to establish an audit committee and nomination committee..
6.1.1. Audit commitee
6.1.2. Remuneration committee
6.1.3. Risk commitee
7. DIRECTOR REMUNERATION
7.1. Payment or compensation received for services or employment and includes base salary, any bonuses and any other economic benefits that an employee or executive receives during employment
7.2. remuneration of executive director
7.2.1. basic salary
7.2.2. pension
7.2.3. benefit in-kind
7.2.4. performance related
7.2.4.1. bonus
7.2.4.2. share options
7.3. remuneration of non-executive director
7.3.1. The remuneration of non-executive directors is decided by the board, or where required by the article of association, or the shareholders in general meeting.
7.3.2. NED remuneration consist of a basic fee – no performance related element is awarded.
8. Directors development and succession planning
8.1. A director of a listed issuer must ensure that he attends such training programmed as may be prescribed by the Exchange from time to time. continuous training for directors of listed issuers as important to enable the directors to effectively discharge their duties.
8.1.1. Nomination committee
8.2. Mandatory Accreditation Programme (MAP)
8.2.1. A Director must attend the MAP in full and procure a certificate from the Approved Organiser to confirm his completion of the MAP.
8.2.2. ​A Director must complete the MAP within the time set
8.2.3. Within 4 months from the date of appointment​
9. Evaluation of Board Effectiveness
9.1. CG Guide Bursa Malaysia
9.1.1. proactively participate in strategic decisions
9.1.2. challenge management with questions based on informed knowledge
9.1.3. oversee management's plans, decisions, and actions
9.1.4. monitor management's ethical conduct, financial reporting and regulatory compliance
9.1.5. be capable of effectively achieving good governance and protecting stakeholders' interests
9.2. Barriers To Board Effectiveness
9.2.1. Avoid micro-management
9.2.2. Ineffective nomination committee
9.2.3. No plan for rotation of board members
9.2.4. Board size is too small
9.3. Board Evaluation and Performance
9.3.1. The board should undertake a formal and rigorous annual evaluation of its own performance and that of its committees and individual directors
9.3.2. Some of the generally accepted benchmarks for the entire board evaluation are:
9.3.2.1. Fulfillment of oversight functions
9.3.2.2. Transparency and accountability
9.3.2.3. Overseeing of conflicts of interest
10. DIRECTOR SELECTION PROCESS
10.1. Integrity and Judgement
10.2. Knowledge
10.3. Diversity
10.4. Commitment
10.5. Independent judgement
10.6. Performance and Contribution
10.7. Experience and Accomplishments
10.8. Board Interaction