Cultural Characteristics and Behaviors
by Samantha Gilbert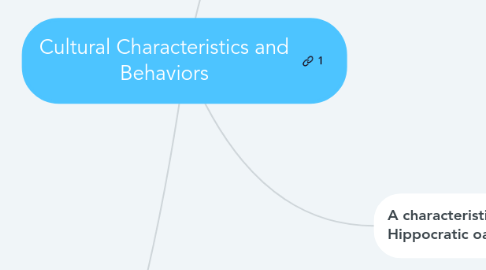 1. A characteristic unique to healthcare is the Hippocratic oath.
1.1. Underlying Assumptions
1.1.1. Non-Maleficence = do no harm. Our actions will create minimal harm to the patient, the benefits will outweigh harm.
1.1.2. Autonomy: We will respect patient's decisions about their own health.
1.1.3. Justice: We will distribute medical benefits and services fairly.
1.2. Values
1.2.1. Non-Maleficence: We will do our best to prevent patients from falling while at the hospital and report any falls that do occur.
1.2.2. Autonomy: We will allow and encourage patients to make their own choices around their medical treatments and hospital stay.
1.2.3. Justice: We provide medical benefits and services to all people.
1.3. Artifacts
1.3.1. Non-Malefience: Call light is within patient's reach. Bed Rails are up. Non-Skid Socks applied.
1.3.2. Autonomy: Patient's are given menu's to choose their own meals, have the opportunity sign or refuse a consent for treatment or procedures, HIPAA
1.3.3. Justice: Insurance Benefits are applied to patient accounts, Payer/Hospital Contracts are in place and followed for insured patients, payment plans are offered for outstanding balances, self pay discount and HCAP/Financial Assistance Programs offered
2. Decision Making in an ICAS -A decision recently made in our organization was to allow staff to work exclusively from home due to COVID-19. This decision was an emergence from the need to adapt to the COVID-19 pandemic and the new conditions the organization was experiencing. Multiple characteristics contributed to this decision, and multiple groups were impacted.
2.1. Impacted users
2.1.1. Staff
2.1.1.1. Lack of commute and parking
2.1.1.2. Hours worked
2.1.1.3. Internet connectivity or dropped calls
2.1.1.4. Disruption from individuals at home
2.1.1.5. Onsite work required for testing and validation
2.1.1.6. Separating work time from home time
2.1.1.7. Account for childcare
2.1.1.8. Happiness/Satisfaction
2.1.1.9. Office with windows!
2.1.1.10. Proximity to free food
2.1.1.11. Set a more flexible schedule
2.1.1.12. Mental breaks with family members/walks
2.1.1.13. Movement throughout the day
2.1.1.14. No morning rush
2.1.1.15. Impromptu human interations
2.1.1.16. Access to office supplies
2.1.1.17. Increased appointments
2.1.2. Management
2.1.2.1. Increased productivity
2.1.2.2. face time with staff
2.1.2.3. Emergence of Management/Leadership Huddle Meetings
2.1.2.4. Team availability
2.1.2.5. Loss of general observation
2.1.2.6. Improved Communication Strategy
2.1.3. Clinicians
2.1.3.1. Lack of physical IT services
2.1.3.2. New remote mobile technology
2.1.3.3. Emergence of Telehealth
2.1.3.4. Increased technical aptitude to join appointments
2.2. Characteristics
2.2.1. 1. Shared purpose: The organization was committed to maintaining high quality health care, while taking all possible measures to keep patients, staff, and faculty safe during the pandemic. Many aspects of the organization underwent change, but it was all with the shared purpose of quality healthcare and safety.
2.2.2. 2. Selectivity: When leadership in the organization was considering measures to take during the pandemic, there was a lot of information to consider. This included information from the Governor's office, the CDC, our own internal experts, as well as many other sources. It was critical to consider all appropriate information related to healthcare, but they did not need to consider information specific to things like retail areas or exercise facilities etc.
2.2.3. 3. Permeable boundaries: There are always permeable boundaries for an ICAS, and the decision to allow staff to work from home increased that. Staff now had varying physical locations, different levels of technology, other family members present during work time and many other disparate variables. The increased 'surface area' if you will of the organization impacted and increased the permeable boundaries of the ICAS.
2.2.4. 4. Flow: This characteristic was the epitome of the decision to allow exclusive work from home. The organization could not stagnate with the new and changed parameters around a safe work environment, and the decision was a result of the motion of the ICAS to achieve the goals and shared purposes.
2.2.5. 5. Multidimensionality: Multidimensionality was required on several levels for this decision. It was necessary to take in multiple perspectives to make the decision to work from home. Additionally, while implementing the decision multiple perspectives were required to decide on the best methods and options to implement the decision.
3. Loop Learning with Telehealth
3.1. Single Loop: Telehealth has to be implemented so create a Telehealth visit type so patients can still be in communication with their providers.
3.1.1. Telehealth visit type were created without asking questions by turning on a setting in MyChart to allow video conferencing.
3.1.1.1. We solved this issue without asking questions as there was a requirement from the governor to stop any non essential or emergent appointments or surgical cases. While this was the correct decision to turn on video conferencing within MyChart, questions should have been asked to ensure all patients had access to Telehealth.
3.2. Double Loop: Patients who did not have MyChart or access to a computer were not able to have a Telehealth visit or a way to be seen during the pandemic.
3.2.1. IT and providers worked to identify all possible scenarios that would be needed for telehealth. It was identified we needed to create visit types for patients who had access to a camera or smartphone but did not have MyChart and patients who did not have access to a computer. From that, we decided to ask the question during scheduling if patients had access to a camera or smartphone. From there, we would schedule either through MyChart or a third party video vendor that is HIPAA compliant. Telephone visits were created for patients that did not have access to a camera or smartphone.
3.2.1.1. We solved this issue by asking why we needed these additional visit types and the answer to that was so that all patients could have access to Telehealth. We believe this was the correct answer to this approach as it would not exclude patients who did not have MyChart or lacked access to the proper technology.
3.3. Triple Loop: The MyChart application was not as intuitive and had constant issues.
3.3.1. When working with the physicians, we were hearing feedback that the UpDoxx application (the 3rd party video vendor) was better than MyChart. MyChart would crash, was not as intuitive, and slowed down the process of treating patients. Some providers began to use Zoom, which is not HIPAA compliant because the application was better. They asked why they could not use the 3rd party application, UpDoxx for video visits instead of MyChart. We found there would be no harm in allowing the physicians to use UpDoxx if they preferred to use that instead of MyChart even if patients had a MyChart account and we would leave it to the provider to decide. We gave all providers access to this application.
3.3.1.1. We solved this issue by listening to feedback from clinicians and allowing them the autonomy to choose which application they prefer. We provided them with an option that allowed us to continue to be HIPAA compliant and feel this was the correct answer to the problem.
4. Color Key Green= Positive Yellow= Neutral Red= Negative