BEST PRACTICES TO BE EFFECTIVE ONLINE TEACHER
by Rocío Ramírez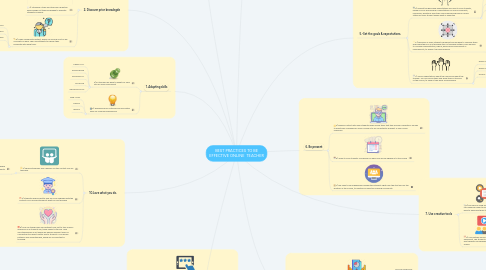 1. 3.- Follow the established syllabus
1.1. a) Created by your own, according with the needs, the knowledge and the target of the students. Choose a particular methodology and also the teaching and learning activities that will contain to guarantee the goals results.
1.1.1. NEEDS FROM SCHOOL
1.1.2. NEEDS FROM STUDENTS
1.1.3. TARGET OF STUDENTS
1.1.4. DURATION
1.2. b) Respecting tasks that should be performed on a daily, weekly, or semester basis.
1.2.1. DAILY
1.2.2. WEEKLY
1.2.3. MONTHLY
2. 5.-Set the goals & expectations.
2.1. a) Present the goals and expectations and rules to your students, based on your learning plan. Expectations for online comments, responses, questions and other online dialogue should be clearly stated so every student knows what is expected.
2.1.1. GOALS
2.1.2. EXPECTATIONS
2.1.3. RULES
2.2. b )The goals of every student is different and we have to consider them and based them on our teaching style or teaching method. Also we have to consider administrative, logical, pysicosocial enviroment or requirements, to design the ideal program.
2.2.1. ADMINISTRATIVE ENVIROMENT
2.2.2. PSYCOSOCIAL ENVIROMENT
2.2.3. REQUIREMENTS
2.3. c) Ask for expectations about the course and about the teacher. You can record them and show them in the end of the course, to show if they were accomplished.
2.3.1. EXPECTATIONS OF THE COURSE
2.3.2. EXPECTATIONS OF THE TEACHER
2.3.3. GOALS OF THE COURSE
3. 6. Be present
3.1. a) Regular contact with your students helps assure them that they are well-supported. The key to effectively managing an online course is to be consistently "present" in your online classroom.
3.2. b) Share to your students a schedule for when you will be logging in to the course
3.3. c) We need to be engaging and supporting students right from the start and for the duration of the course, to maintain an effective learning community.
4. 1. Adapting skills
4.1. a) As teachers we have to adapt our skills into an online enviroment
4.1.1. CREATIVITY
4.1.2. KNOWLEDGE
4.1.3. ADAPTIBILITY
4.1.4. PATIENTE
4.1.5. ORGANISATION
4.2. b) Researching for materials and innovative ideas for classroom experience.
4.2.1. WEB LINKS
4.2.2. VIDEOS
4.2.3. BOOKS
5. 2. Discover prior knowlegde
5.1. a) Introduce a topic and then ask a question which brings out their knowledge to evaluate students' progress.
5.2. b) Make a diagnostic pretest, which can include a list of key concepts or ideas. Then ask students to explain their familiarity with each topic.
5.2.1. KEY
5.2.2. CONCEPT
5.2.3. IDEA
6. 4. A warm welcome
6.1. a )A warm welcome announcementto your students. You can create a welcome video, so that students can put a "face to a name".
6.1.1. VIDEO
6.1.2. POST
6.1.3. VOICE NOTE
6.1.4. WELCOME PICTURE & IMAGES
7. 9. Feedback
7.1. a) Use clear and concise language
7.2. b) Be specific, what needs more work and how can they improve the quality of their work.
7.3. c) Manage student's time carefully, try to response by email or questions posed in the discussion forums, online class, etc. because feedbacks are especially important to them.
7.4. d) Feedback from students is a great way to make improvements to the course or to your teaching. This information will be used to improve our next courses.
8. 7. Use creative tools
8.1. a) The idea of using online tools, it´s that can make life easier to everyone, so we have to approach those tools.
8.1.1. CANVAS
8.1.2. DIAGRAMS
8.1.3. MIND MAPS
8.1.4. BLACKBOARDS
8.2. b) Use multiple forms of lectures and assesment, The students learn differently and therefore comprehension is different as well.
8.2.1. VIDEO LINKS
8.2.2. WEB LINKS
8.2.3. GAMES & PUZZLES
8.2.4. GROUP ROOMS
9. 8. Let the students participate
9.1. a) Create projects where they have to research the topic and to investigate the main information, to apport knowledge and make them share between them.
9.1.1. ACTIVE LEARNING
9.1.2. PROJECTS
9.2. b)Use discussion groups. Permit your students to share their perspective from an especific topic.
9.2.1. INTERACTION
9.2.2. POINTS OF VIEW
9.2.3. BRAIN STORMS
10. 10.Love what you do.
10.1. a) Show enthusiasm and a passion for the content you are teaching.
10.1.1. c) The teaching/learning relationship is triangular, where teachers serve as guides, helping to illuminate the subjects we explore together as learners.
10.2. b) Students respond better and are more engaged with the content if you are excited about what you are teaching
10.3. d) One can teach basic skills without love, but to truly make a difference in a student's life, there needs to be love. Love sees teaching as an art where we explore different ways of connecting to subject matter and to students. Love brings patience and understanding, which are so important in teaching.