ASYNCHRONOUS ACTIVITY
by Paula Velasco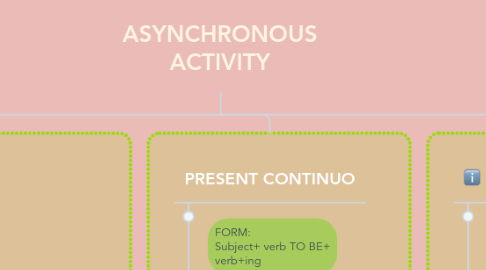 1. PRESENT SIMPLE
1.1. FORM: *subject+verb + complement
1.1.1. VERB BE: * I- Am *He, she, it - Is * We, they, you - Are
1.1.1.1. NEGATIVE: *All verbs: Don´t/ doesn´t + verb * Am not - amn´t * Is not - isn´t * Are not - aren´t
1.1.1.1.1. QUESTIONS: Do/ Does
2. PRESENT CONTINUO
2.1. FORM: Subject+ verb TO BE+ verb+ing
2.1.1. NEGATIVE: *Am not - amn´t * Is not- isn´t * Are not - aren´t
2.1.1.1. QUESTIONS: Who/what/ when+ is/are/they+ verb+ ing +?
3. STATIVE BERBS
3.1. They are those verb tenses that must be conjugated continuously, they will NOT be formulated like this. Statives Verbs are verbs that describe states, conditions, and situations.
3.1.1. EXAMPLES:
3.1.2. Agree - She didn't agree with us.
3.1.3. Hear -Do you hear music?
3.1.4. Prefer - I prefer chocolate ice cream.
3.1.5. Sound - Your idea sounds great.
3.1.6. Wish - I wish I had studied more.