Becoming Summary
by Danny Forest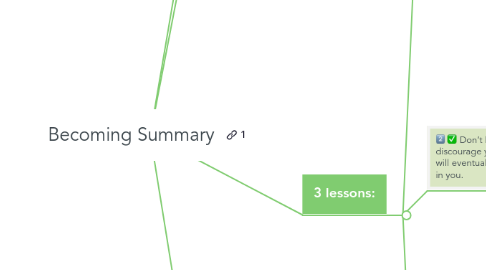 1. 1-Sentence-Summary:
1.1. Becoming motivates you to move forward with your dreams regardless of your circumstances, criticism, or what people think is normal by sharing the life story of Michelle Obama.
2. Favorite quote from the author:
2.1. "Now I think it's one of the most useless questions an adult can ask a child - What do you want to be when you grow up? As if growing up is finite. As if at some point you become something and that's the end." - Michelle Obama
3. 3 lessons:
3.1. Be proactive about learning and getting a good education regardless of how good or bad things are around you.
3.1.1. The South Side of Chicago saw a huge demographic change between 1950 and 1980.
3.1.1.1. In the '50s, it's residents were 96% white. Just 30 years later, it was 96% black.
3.1.2. Michelle Obama began life right in the middle of this, and at her school, there was a good mix of different people.
3.1.3. As she grew, an increasing number of her wealthier neighbors moved to the suburbs and took their money with them.
3.1.3.1. Because of this the schools and businesses in the area began declining.
3.1.4. It wasn't long before nefarious real estate agents dubbed the area a ghetto.
3.1.5. Thankfully, Michelle had a great mother who's involvement in helping the community also helped her education.
3.1.6. In second grade Michelle told her mom how awful school was.
3.1.6.1. She explained that the teacher couldn't control the chaos of the class, and her mom listened.
3.1.7. It wasn't long before Michelle tested into a third-grade class of high-performing kids.
3.1.7.1. Looking back, this was a crucial step to her success in school.
3.1.8. Her drive helped her get into an equal opportunity school with great teachers and other top students like Michelle.
3.1.9. She continued to work hard amid doubts that she could do it, especially when comparing herself to the other high-achieving kids.
3.1.9.1. By concentrating on the work she learned quickly and excelled.
3.2. Don't let people's opinions of you discourage you, try for greatness and you will eventually find the people who believe in you.
3.2.1. Even though she was in the National Honors Society, class treasurer, and heading toward being in the top 10% of her class, Michelle still had opposition.
3.2.1.1. She once had a meeting with a college counselor who said: "I'm not sure you're Princeton material."
3.2.1.2. Michelle had hopes to go there because of an older brother that was already there.
3.2.1.3. But this advisor, who should have been a professional, only told her to lower her sights.
3.2.1.4. But she didn't let this get her down, applied anyway, and got in.
3.2.2. Sometimes you need to ignore the people who should be giving you the best advice to just go with your gut and shoot for the moon!
3.2.2.1. And, as young Michelle quickly learned, doing so can lead you to people who truly believe in your ability to reach any dreams you have.
3.2.3. While Princeton was mostly white, Michelle got involved with an organization by the name of Third World Center (TWC).
3.2.3.1. This group gave support to students of color.
3.2.4. It was here that she met Czerny Brasuell, a mentor who would be a positive influence on Michelle throughout college.
3.2.4.1. Brasuell was a working mom, which is something Michelle hoped to be someday.
3.2.4.2. She also gave good reading suggestions, answered questions, and helped Michelle begin an afterschool program.
3.2.4.3. Czerny was the perfect example and friend to Michelle throughout college, helping set the standard for her successful life.
3.3. Don't fear using your strengths and ideas to try to improve the world no matter how prestigious a position you may be in.
3.3.1. Over the next few years, Michelle would go on to study at Harvard.
3.3.2. After that, she began working for a law firm in Chicago.
3.3.3. It was there that she met Barack Obama.
3.3.3.1. Although she had some initial doubts about him, she quickly caught on and they were eventually married.
3.3.4. Fast-forward a few years and the Obama's and their two daughters are about to move into the White House as the First Family.
3.3.5. They felt like they were in a whole new world with secret security and new protocols for even the simplest of things in life.
3.3.5.1. Their typical date night of dinner and a show, for example, was no more due to all of the security restrictions in place.
3.3.6. It was also hard for Michelle to get involved as the first lady acting like an elected official is frowned upon.
3.3.7. But she did find ways to be herself amid this strange new universe she and her family were in.
3.3.7.1. Her commitment to raising her daughters, for example, was one thing that Michelle wouldn't let go of.
3.3.7.2. She helped them see that the White House was their home and they could play and grab food from the pantry as they pleased.
3.3.7.3. Michelle also started a garden and worked on initiatives to help improve school lunches across the nation.
3.3.8. The drive that helped her succeed in school and help other people shone through.
3.3.8.1. She worked to improve the world in whatever way she could, even though the position her family was in made some aspects of life a little more challenging.
4. Who would I recommend the Becoming summary to?
4.1. The 37-year-old mom who works, the 23-year-old who wants to go to law school but is afraid it might be too hard and just needs some inspiration, and anyone with a desire to change the world for the better.