Case Study - Logoplaste
by Min Si Thu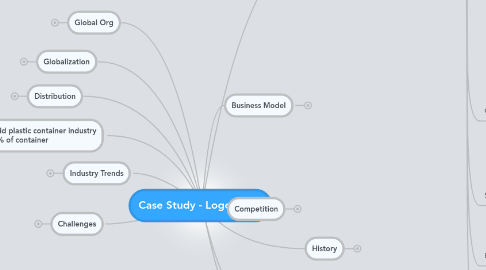 1. Plastic pellet
1.1. supplied by Petrochemical
2. Rigid plastic container industry 21% of container
2.1. APA largest 30%
2.2. FCMGs such as P&G, Coca-Cola
3. Industry Trends
3.1. 1. Industry consolidation 2. production consolidation (demand increased) 3. sustainability (eco-friendly packages, such as bio-polymer bottles, efficient Supply chain Mgt) 4. globalization
4. Competition
4.1. 1. Alpla-Werke
4.2. 2. Amcor
4.3. 3. Graham
4.4. 4. Packaging and Plastipak
5. Challenges
5.1. 1. Structure and Financing – succed in financing in 2010, the entire Brazilian operation
5.2. 2. Client recruitment and retention – 100% customer retension, let client enjoy higher scale benefits (Lean)
6. Distribution
6.1. On-sit sets up inside or close to clients'
6.2. Off-site units serve customer from a central location,
6.3. scale benefits and diversifying client risk
7. Globalization
7.1. North America, Central and Eastern Europe, China and Asia- Pacific
7.2. Challenging markets – accepted P&G offer by first seting up plant in Malaysia
8. History
8.1. - in-house manufacturing in Europe with its "hole-in-the-wall" concept.
8.2. Dictated minimum production scale and just-in-time deliver.
9. Initial Expansion
9.1. Hole-in-the-wall concept expanded to Spain in 1992
9.2. In 1997, partnered with Coca-Cola and in 1998, partnered with 2 larger plants for P&G
10. Business Model
10.1. open-book policy
10.2. null transportation costs
10.3. reliable quality and competitive prices
10.4. Strategies
10.4.1. Cost competitive player,
10.4.2. ILab, innovation Lab, established partnership with various equipment manufactures.
11. Global Org
11.1. IMF
11.2. World Bank
11.2.1. The Multilateral Investment Guarantee Agency (MIGA)
11.3. WTO (GATT)
12. Strategies
12.1. Core Strategy Tools
12.1.1. Porter's Five Forces
12.1.1.1. Supplier
12.1.1.2. Buyer
12.1.1.3. Competitive rivalry
12.1.1.4. threat of substitution
12.1.1.5. Threat of new entrant
12.1.2. PEST
12.1.3. SWOT Analysis
12.2. Understanding Competitive Advantage
12.2.1. USP Analysis
12.2.2. Porter's Diamond
12.2.3. Kay's Distinctive Capabilities Framework
12.2.4. The ADL Matrix
12.2.5. Ohmae's 3C Model
12.2.6. VRIO Analysis
12.2.7. Competitive Intelligence
12.2.8. Weisbord's Six-Box Model
12.2.9. Kotler and Keller's Five Product Levels
12.3. Strategic Options
12.3.1. Developing Your Strategy
12.3.2. Porter's Generic Strategies
12.3.3. Bowman's Strategy Clock
12.3.4. Mintzberg's 5 Ps of Strategy
12.3.5. Blue Ocean Strategy
12.3.6. Scenario Analysis
12.3.7. Understanding Game Theory
12.3.8. The Value Disciplines Model
12.3.9. Value-Based Management
12.3.10. The Business Motivation Model
12.4. Organization Design
12.4.1. The McKinsey 7S Framework
12.4.2. Strategic Alliances
12.4.3. Diversification
12.4.4. Adizes' Corporate Lifecycle
12.5. Strategic Prioritization
12.5.1. The GE-McKinsey Matrix
12.5.2. The Boston Matrix
12.5.3. Porter's Value Chain
12.6. Executing Strategy
12.6.1. The Balanced Scorecard
12.6.2. Corporate Governance
12.7. Quality Strategy
12.7.1. Total Quality Management (TQM)
12.7.2. Six Sigma
12.7.3. Benchmarking
12.7.4. Manufacturing and Operations
12.7.4.1. JIT
12.7.4.2. Green Mgt