Stel je vraag via Twitter #Breintraining
by Alexis van Dam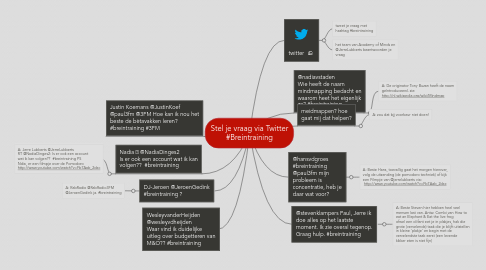 1. twitter
1.1. tweet je vraag met hashtag #breintraining
1.2. het team van Academy of Minds en @JerreLubberts beantwoorden je vraag
2. @nadiavstaden Wie heeft de naam mindmapping bedacht en waarom heet het eigenlijk zo? #breintraining
2.1. A: De originator Tony Buzan heeft de naam geïntroduceerd. zie: http://nl.wikipedia.org/wiki/Mindmap
3. meidmappen? hoe gaat mij dat helpen?
3.1. A: zou dat bjj voorkeur niet doen!
4. @hansvdgroes #breintraining @paul3fm mijn probleem is concentratie, heb je daar wat voor?
4.1. A: Beste Hans, toevallig gaat het morgen hierover, volg de uitzending (de pomodoro techniek) of kijk een Filmpje van @jerrelubberts via: http://www.youtube.com/watch?v=Fb7Aab_2dxc
5. @stevenklampers Paul, Jerre ik doe alles op het laatste moment. Ik zie overal tegenop. Graag hulp. #breintraining
5.1. A: Beste Steven hier hebben heel veel mensen last van. Antw. Combi van How to eat an Elephant & Eat the live frog ofwel een olifant eet je in plakjes, hak die grote (vervelende) taak die je blijft uitstellen in kleine 'plakje' en begin met de vervelendste taak eerst (een levende kikker eten is niet fijn)
6. WesleyvanderHeijden @wesleyvdheijden Waar vind ik duidelijke uitleg over budgetteren van M&O?? #breintraining
7. DJ-Jeroen @JeroenGedink #breintraining ?
7.1. A: RabRadio @RabRadio3FM @JeroenGedink ja. #breintraining
8. Nadia  @NadiaDinges2 Is er ook een account wat ik kan volgen?? #breintraining
8.1. A: Jerre Lubberts @JerreLubberts RT @NadiaDinges2: Is er ook een account wat ik kan volgen?? #breintraining PS Ndia, er een filmpje over de Pomodoro http://www.youtube.com/watch?v=Fb7Aab_2dxc
9. Justin Koemans @JustinKoef @paul3fm @3FM Hoe kan ik nou het beste de bètavakken leren? #breintraining #3FM