Design Map for Teaching Argument Online
by Leah Terry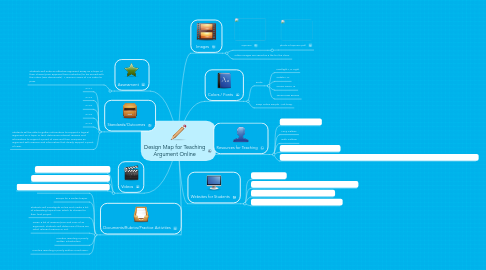 1. Standards/Outcomes
1.1. W 4.1
1.2. W 4.4
1.3. W 4.5
1.4. W 4.6
1.5. W 4.9
1.6. Students will be able to gather information to support a logical argument on a topic or text, determine relevant reasons and information to support a point of view and then compose an argument with reasons and information that clearly support a point of view.
2. Documents/Rubrics/Practice Activities
2.1. Grade 5 Evaluation Guide pgs. 7, 10, 16
2.2. Recipe for a Perfect Paper
2.3. Students will investigate online and create a list of interesting topics from which to choose for their final project.
2.4. Given a list of reasons/pros and cons of an argument, students will determine if those are valid, relevant reasons or not.
2.5. Practice rewriting a poorly written Introduction.
2.6. Practice rewriting a poorly written Conclusion.
3. Images
3.1. Opinion
3.1.1. photo of opinion poll
3.2. Other images are saved as a file for the class.
4. Websites for Students
4.1. http://www.writingfix.com/
4.2. http://www.grammarly.com/?gclid=CN-m09SuyqwCFcjb4Aodvw5ArQ&SSAID=38981
4.3. http://www.journalinghelps.com/Elementary-Writing-Prompts.html
4.4. http://www.ehow.com/info_8393344_list-opinion-writing-fifth-grade.html
5. Colors / Fonts
5.1. Fonts
5.1.1. Footlight MT Light
5.1.2. Calisto MT
5.1.3. Comic Sans MS
5.1.4. Times New Roman
5.2. Keep colors simple - not busy.
6. Resources for Teaching
6.1. https://owl.english.purdue.edu/
6.2. Lucy Calkins
6.3. Ruth Culham
6.4. http://www.readingrockets.org/webcasts/3001/
6.5. http://www.ehow.com/video_4983871_teach-argumentative-writing.html?wa_vrid=31970c0d-e253-4cdc-8f38-1919389ccf0c&cp=1&wa_vlsrc=continuous&pid=1
7. Videos
7.1. http://www.brainpop.com/english/writing/criticalreasoning/
7.2. http://www.teachertube.com/viewVideo.php?video_id=68337
7.3. http://watchknowlearn.org/Video.aspx?VideoID=7620&CategoryID=4933
8. Assessment
8.1. Students will write an effective argument essay on a topic of their choice (prior approval from instructor) to be scored with the rubric (see documents). Minimum score of 3 in order to pass.