Your Website Pages
by Mia Gordon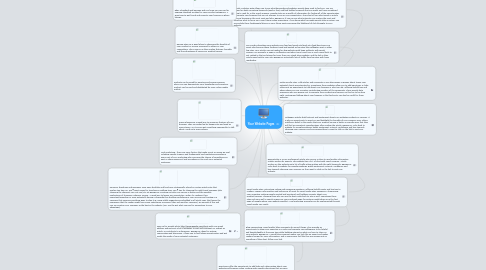 1. HubPages articles build interest and excitement about your websites products or services. It is also an opportunity to point our and highlight the benefits of your company over others instilling a belief in the reader that your product/service is better in specific ways that they will feel are important considerations after reading the article. BENEFITS: Links back to website for Google Rankings, builds excitement, interest, confidence and bias towards choosing your company and encourages them to want to click on the link to visit your website.
2. Ezinearticles is a very professional article site seen as a place to read quality informative articles written by experts. This website has a lot of clout with search engines. Article written on this website get a lot of traffic when written with the right keywords. BENEFITS: Links back to website for Google Rankings, Builds excitement, interest, confidence and bias towards choosing your company so they want to click on the link to visit your website.
3. Blog commenting. Good quality blog comments do several things. They provide an opportunity to show your expertise in a niche and promote your willingness to be helpful and knowledgable at the same time while building interest in what you have to share on your website. BENEFITS: A good blog comment makes you look like an expert and makes readers hunger for more information, and in some cases feel like they are missing out on something if they don't follow your link.
4. Niche specific sites. Add articles and comments or join discussions in groups about topics your potential clients are interested in. Sometimes these websites allow you to add signatures or links, others just an opportunity to talk about your business or what you do. Offering helpful tips and advice shows you are a positive contributing member of the community. These people hate spammers who join groups just to promote their products and services so this has to be done right. Writing iand talking about your business in the third party can also be useful for these websites.
5. Directories offer the opportunity to add links and a description about your website and business online. Picking niche specific directories that are seen as authority (no spam) sites is vital. Submitting websites to the wrong spammy or non niche relevant directories can earn penalties for your site in search engines. BENEFITS: Quality links back you your website.
6. Social media sites: Interacting, asking and answering questions. Offering helpful points and top tips to readers. Images, info graphics and videos are all great for social media sites. BENEFITS: Showcasing your expertise, getting people excited and emotional and building curiosity about your product/services. Showing them why you are the best! Links back to site as well. Sometimes these sites rank very well in search engines so your Facebook page for instance might show up in the first page of google where your website wouldn't. Viral marketing principles can be implemented through social media very easily.
7. RSS Feeds Submitting your websites RSS feed and social site feeds into feed directories is a great idea because these feeds get read and posted on big sites like Huffington post or other big sites. Your articles can get ranked on big websites with huge authority with search engines. For example, a page in Huffington post about your travel tour is much more likely to get ranked in the top listings for tours than your stand alone website, and the link in their article goes back to your site: BENEFITS: Potentially lots of traffic from big sites with huge readership.
8. Sign up for Google alerts http://www.google.com/alerts with your email address and get sent a list of websites to visit and comment on, submit an article, or contribute to a discussion. BENEFITS: Ideas for writing, commenting and discussion. Allows you to find linking opportunities and get inside the minds of your potential customers.
9. Google Analytics Data allows you to see what keywords and websites people have used to find you. You can expand on high converting keywords (paid or free) and find hidden keywords that you might not have considered trying to rank for in the search engines. Google stats are a wealth of information for finding all of the opportunities to promote your business that are not obvious to you or your competitors. They also tell you what social or article sites are bringing in the most visits and why. BENEFITS: If you can see what interests your visitors the most and therefore what to focus on in your future online promotions. If you know what has made people take an action, you can include these fundamental drivers in your future posts increasing the likelihood of click throughs to your website.
10. Coupons, brochures and giveways. Give away booklets and brochures strategically placed on certain article sites that explain top tips e.g. Top 5 Must Haves for traveling on walking trips. Top 5 tips for choosing the right travel company (why choosing the cheapest can cost you) etc etc BENEFITS: Pointing out why your service is better and the possible implications of choosing a cheaper service. A good way to lessen any competitors "edge" by making it less important/appealing or even potentially having a downside thus building confidence in your services and trusting in a company that ensures everything goes to plan (e.g. using subtle suggestions embedded in all article copy that leaves the impression that the reader might have some unwelcome surprises if they pick another company). Do enough of this and you can position your company as the best in the industry (e.g. use the get what you pay for assumption to your advantage).
11. Viral Marketing - there are many factors that make a post or meme go viral. Including specific triggers and fundamental viral marketing principles in every part of your marketing plan increases the chance of something you post or share going viral and spreading out to reach your potential customers.
12. Press releases are a good way to announce features of your business. They are picked up by bigger sites and used as news stories. So it you've got something newsworthy to talk about, send out a press release.
13. Podcasts can be good for question and answer sessions where you can demonstrate your knowledge and expertise. Podcast can be used and distributed by many online media outlets.
14. Review sites are a good place to showcase the benefits of your product or service compared to others or your competitors. Like a mini FAQ they explain features, benefits and the advantages of using your product/service.
15. Ebay Classifieds and Reviews Did you know you can pay for ongoing classified on Ebay for some product categories. A great way to get found and promote your business in Ebays listings.