A Mobile Food, Health, Nutrition School Education Program Lainie Plattner MHI 548 Spring 2014B
by lainie plattner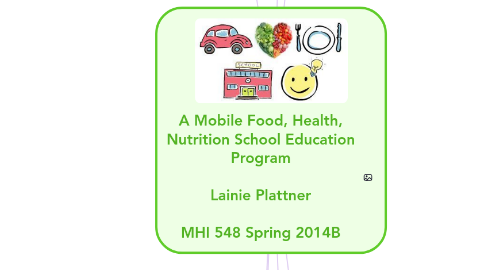 1. INTRODUCTION AND SOCIAL CONTEXT
1.1. Overall Project Description
1.1.1. The project will look like...
1.1.1.1. A mobile truck/trailer "classroom" that can travel between schools throughout the week, stopping at each school once a week for lessons and activities. The trailer would park and "open up" to create indoor/outdoor activity/cooking and lecture space
1.1.1.1.1. Features a garden either in the form of wall gardens, a slide out piece or, ideally, stationary garden designated by school
1.1.1.2. Programmatic Aspects would include:
1.1.1.2.1. Educational/Interactive projects:
1.1.1.2.2. Continuous Education Portion:
1.1.1.2.3. Technology portion:
1.1.2. General Project Goals:
1.1.2.1. Reconnect kids to the true purpose of food:
1.1.2.1.1. nourishment
1.1.2.1.2. sustenance
1.1.2.1.3. quality energy
1.1.2.2. Engage kids with growing food and cooking
1.1.2.3. Counteract effects of modern day food marketing
1.1.2.4. Empower kids and families with education, creating an intrinsic motivation to be healthy
1.1.2.4.1. Research shows that nutrition education programs enhance the ability of students and their parents to identify more nutritious food choices and can potentially influence dietary pattern and health outcomes (Katz et al., 2011)
1.1.2.5. Long term goal: to reduce childhood (and therefore adult) obesity rates
1.1.3. Organizations to Approach:
1.1.3.1. Elementary/middle schools (at least initially)
1.1.3.2. School districts
1.1.3.3. Elementary/middle aged school teachers
1.1.3.4. Preexisting organizations who focus on healthy eating for kids
1.2. Rationale & Need
1.2.1. Obesity rates among kids and the direct and indirect healthcare costs have risen dramatically in recent history
1.2.1.1. Since 1980, percent of obese 12-17 year olds has increased 64% and 98% among 6-11 year olds (Straus, 2012)
1.2.1.2. Direct and indirect costs associated with childhood obesity quadrupled between 1980 and 1999 (Transande, 2009)
1.2.1.3. Worldwide there are 170 million obese children (Hendriks, 2012)
1.2.2. Innovation Context
1.2.2.1. Based on the conceptual framework...
1.2.2.1.1. If we can focus on an intervention in at least one of the bubbles associated with chronic illness - in this case that would be the food culture- we can create educated consumers, prevent obesity and have a positive monetary impact on the healthcare system
1.2.2.2. Childhood obesity is a wicked problem:
1.2.2.2.1. Via conceptual framework above: this intervention takes place in the "Food Culture" portion by addressing the disconnected relationship our nations' kids have with food via our culture's lifestyle, food marketing etc
1.2.2.3. Can potentially be an independent business venture (sell as summer program, schools pay to bring in a program for extended period of time, private classes for kids etc
1.2.2.3.1. As Weiss & Legrand (2011) say " innovation is applied creativity that achieves business value"
1.2.2.4. Potentially a partnership with local government in terms of subsidies for schools that offer these classes?
1.2.3. Why intervene at elementary/middle schools?
1.2.3.1. Kids spend a relatively vast amount of time at school
1.2.3.2. Bypasses the home obstacle of "parents are too busy" or "cannot afford it"
1.2.3.3. Intervene early to instill life-long healthy habits
1.2.3.3.1. Children who are obese after age 6 have a greater than 50% chance of being obese as adults; the statistics for children ages 10-15 is 80% (Frieden et al., 2010)
1.2.4. Why a mobile unit?
1.2.4.1. Reach more kids and therefore families.
1.2.4.2. Bypass the school having to commit physical and a lot of curriculum space to this program
2. MAJOR STAKEHOLDERS
2.1. School/District Staff:
2.1.1. Superintendent, Principal, Board members and teachers
2.1.1.1. Rationale: Get them on board = payment method and help making intervention sustainable with potential for growth
2.1.1.1.1. Porter-O'Grady and Malloch (2010) state that complex systems (and therefore all the stakeholders involved) are crucial to the sustainability and future of the life of a complex system (or in this case a complex intervention). They also state that it takes a "vibrant" and interrelated group with a variety of intelligences and knowledge as well as an environment where they feel comfortable to share that knowledge for a complex system to truly succeed"
2.1.1.2. Role: Teachers and management who are deeply involved in the education of the children are those who create the environment where stakeholders feel comfortable, creative and innovative.
2.1.1.2.1. `Weiss and Legrand (2011) state that a critical part of closing the innovation gap is to make sure all executives believe in the innovative implementation and find it crucial to future organizational success
2.2. Parents & Families:
2.2.1. Rationale: kids under the age of 18 need the approval of their parents before partaking in various school activities, especially if the curriculum isn't standard. Parents will also play an important role in how the kids integrate the curriculum into the home making it more effective and sustainable
2.2.2. Role: help carry the curriculum outside the school room and into the home. The "continuing education-take home activities/assignments" part of the intervention will only be successful if parents take an active role in making sure they continue the education after school hours
2.3. Child Health Specialists:
2.3.1. IE child psychologists, nutritionists (Staniford et al., 2011)
2.3.1.1. Rationale: Childhood obesity is very different from adult obesity and therefore it must be treated differently and with a different approach. This curriculum needs to be geared towards and centered around how children learn best and what interventions are best for them, ensuring a more effective intervention
2.3.1.2. Role: to help determine the curriculum. Child psychologists can help with developing tools and assignments that resonate most with how children of the designated age learn and what sorts of activities engage them most. Psychologists can also be a helpful tool in terms of presenting the intervention to potential stakeholders by presenting the information on why the intervention has the potential for success. Child nutritionists will help develop the other aspect of the curriculum in terms of what we should be teaching kids about food, being active, cooking etc
2.4. Food companies Represented on Campus:
2.4.1. Rationale: Often, schools have various deals with food companies who supply vending machines, snacks and school lunches where the school benefits in some way by using that company. If the school starts teaching a curriculum whose engrained message creates a conflict of interest with the companies there will be a complex problem
2.4.2. Role: The school/district has the potential to get food companies on board who are behind this intervention and whose motives for working with the school go beyond supplying lunches. If another "touch" point between the intervention and the kids (the others being the classroom and the home) can be created by enlisting food companies who want to supply healthy food the intervention becomes reinforced
2.5. Government/Regulators/Payers:
2.5.1. Rationale: if we can get these various bodies on board to back the project and instill various benefits/incentives to (as a school) take part in the intervention, that will help expand the program
2.5.2. Role: these bodies could eventually promote the program to various schools/districts and maybe even other organizations. If the program proves successful (meaning healthier kids = fewer healthcare costs) they have a large incentive to help grow the curriculum and the program's reach
2.6. DISC/VAT (Lindner, 2012)
2.6.1. Conscientious
2.6.1.1. Person places emphasis on quality and accuracy, expertise, competency; enjoys independence, wants details and fears being wrong
2.6.1.2. Work best with those of a "steadiness" nature
2.6.1.3. Most difficult to work with are those of a "dominance" nature
2.6.2. Visual -2; Auditory-5; Tactile-7
2.6.2.1. Preferred Mediums of Learning: through experiences, in person, handouts
2.6.2.2. Prefer when information is given via: combination of all senses, real-life examples, hands-on approaches
2.6.2.3. Remember information best when: experience the information, act out the presentation, physically holding in hands
3. QUESTIONS AND INFORMATION
3.1. Integration with School/Policies
3.1.1. What is the necessary process for and who must we go through to get the integration of the program approved at the school (Roy et al., 2012)?
3.1.2. Is there governmental policy involved with bringing an outside program into school? A policy regarding what types of classes schools can teach outside of the basic reading, writing and arithmetic(Hayes and Berdan, 2013)? (i.e. I know there are certain policies regarding how much of school curriculum must be designated to those basic classes) (Taylor et al, 2011)
3.1.3. Will teachers of the school run the program or will the program have designated instructors (Hayes and Berdan, 2013) who travel with it?
3.1.4. How long will it stop at each school and how many classes will it teach per stop?
3.1.5. How does program get funded? Will funding come from schools or will it need to have a private funding source (Hayes and Berdan, 2013)?
3.1.6. One enabler for practicing innovation within an organization is internal communication that integrates all components (Weiss and Legrand, 2011)
3.2. Curriculum
3.2.1. What curriculum has proven most effective in reengaging kids with their food and helping them develop a healthy relationship with food?
3.2.2. What delivery of that curriculum has proven most effective in previous research?
3.2.3. How will curriculum be specified for various age groups?
3.3. What will the space actually look like?
3.3.1. What is the optimal design of the space that delivers the mobile program? How can all the necessary equipment/tools/programs be fit into that small space and be capable of frequent travel?
3.3.2. Look for relatively similar, successful examples such as food trucks, mobile healthcare delivery systems
3.3.3. One aspect of helping create a culture of innovation is having effective space for that innovation (Weiss and Legrand, 2011)
3.4. Where will funding come from?
3.4.1. Integration with school or non-profit, working mainly off of donations
3.4.2. Potential for government/payer reimbursement if program creates positive outcomes?
3.4.3. Sign ups for elective summer program can help to cover costs
4. EVALUATION
4.1. Sign ups for summer classes:
4.1.1. Validates that kids and their families enjoy the class
4.1.2. An extra way to raise money for the program continuation
4.2. Number of schools reached:
4.2.1. Reach 5 schools within first the first 2 years and at least 100 students with a goal of increasing that by 50%% after first 2 years of program initiation
4.2.2. I could not find any AZ schools that have an established/consistent nutrition program (websites for the schools that say "nutrition program" are referring to the foods they offer at lunch and things they restrict i.e. sodas.
4.3. Take home survey for parents and kids (also serves as a pre/post study):
4.3.1. Approval from parents is crucial to the success and sustainability of the program. Also provide opportunities for feedback to make program better (Hayes and Berdan, 2013)
4.3.2. Aim for at least 75% of parents to find satisfaction in some portion of the program
4.3.3. An open and accessible relationship and interaction between organization components is crucial to leading one's organization towards a culture of innovation (Porter-O'Grady and Malloch, 2010)
4.4. Nutrition Label Literacy:
4.4.1. Conduct a pre/post test on how kids interpret food labels
4.4.2. Kids are able to determine "healthfulness" by looking at ingredients and amounts. In key study nutrition knowledge improved from 18.1%-26.9% via a school education program(Katz et al., 2011)
4.4.3. Nutrition literacy is a great example of how our current culture of innovation is focused more on knowledge creation than a concrete outcome measured by tools of measurement and calculation (Fonseca, 2002)
4.5. Long term: an obesity rate below the average statistic and higher consumption of fruits and vegetables
4.5.1. School wide goal: lower obesity rates than the national average: 1 out of 3
4.5.1.1. analyze BMI of students who have taken part in the program for at least 4 years…those 4 years can cross over between elementary school and middle school (Ogden et al., 2014)
4.5.2. Conduct study of what foods kids are eating during lunch
5. IMPACTS ON SUCCESS AND HOW TO APPROACH BARRIERS:
5.1. Resource limitations: schools are short on time, person-power, resources and money (Katz et al., 2011)
5.1.1. Work with local suppliers for donations and beneficial partnership
5.1.2. Approach the project with a non-profit attitude and develop donor base
5.2. Interventions must be compliant with school policies and nutrition standards (Woodward-Lopez et al., 2010)
5.2.1. Schedule recurring meetings with district to check-in on the projects compliance with policies
5.2.2. Conduct a school assessment/audit to understand the culture and red tap
5.3. Lack of district/school/community/parent support (Woodward-Lopez et al., 2010)
5.3.1. Engage stakeholders to create strategy for change and develop an advisory board.
5.3.1.1. By interacting with stakeholders early on we can work on creating routines and habits within this complex system that help develop a sustainable organization (Fonseca, 2002)
5.4. Student preferences and opposition to change (Coleman et al., 2012)
5.4.1. Involve students in the planning process through focus groups, surveys and interviews
5.4.1.1. Engaging students is an example of promoting interaction and synthesis within and across the organization which is crucial to being a innovative leader (Porter-O'Grady & Malloch, 2010)
5.4.2. Understand where change can be implemented and where it simply will not work
6. REFERENCES
6.1. Coleman, K.J., Shordon, M., Caparosa, S.L., Pomichowski, M.E., and Dzewaltowski, D.A. (2012). The healthy options for nutrition environments in schools (Healthy ONES) group randomized trial: using implementation models to change nutrition policy and environments in low income schools. International Journal of Behavioral Nutrition and Physical Activity, 9: 80. Fonseca, J. (2002). Complexity and Innovation in Organizations. New York, NY: Routledge. Frieden, T.R., Dietz, W., and Collins, J. (2010). Reducing childhood obesity through policy change: Acting now to prevent obesity. Health Affairs, 29(3): 357-363. Hayes, D. and Berdan, G. (2013). School Nutrition Programs: Challenges and Opportunities. American Journal of Lifestyle Medicine, 7(5): 333-340. Hendriks, A.M., Gubbels, J.S., DeVries, N.K., Seidell, J.C., Kremers, S.P.J., & Jansen, M.W.J. (2012). Interventions to promote an integrated approach to public health problems: An application to childhood obesity. Journal of Environmental and Public Health; 1-14. Katz, D.L., Katz, C.S., Treu, J.A., Reynolds, J., Njike, V., Walker, J., Smith, E., Michael, J. (2011). Teaching healthful food choices to elementary school students and their parents: The Nutrition Detectives Program. Journal of School Health, 81(1): 21-28. Lindner, V. R. (2012). Learn 2 Read People: Understanding Others & Self Using DISC & VAT. Learn 2 Read People & Inscape Publishing, Inc. Ogden, CL, Carroll, MD, Kit, BK, Flegal, KM (2014). Prevalence of childhood and adult obesity in the United States. Journal of the American Medical Association, 311(8): 806-814. Porter-O'Grady, T., and Malloch, K. (2010). Innovation Leadership: Creating the landscape of healthcare. Sudbury, MA: Jones and Bartlett Publishers. Roberts, M. (2005). Parenting in an Obesogenic Environment. Journal of Research for Consumers, 9. Roy, M., Millimet, D.L., and Tchernis, R. (2012). Federal nutrition programs and childhood obesity: inside the black box. Review of Economics of the Household, 10(1): 1-38. Staniford, L.J., Breckon, J.D., Copeland, R.J., and Hutchison, A. (2011). Key stakeholders' perspectives towards childhood obesity treatment: A qualitative study. Journal of Child Health Care, 15(3): 230-244. Strauss, R.S. (2002). Children Obesity. Pediatric Gastroenterology and Nutrition, 49(1): 175-201. Taylor, J.P., MacLellan, D., Caiger, J.M., Hernandez, K., McKenna, M, Gray, B., Veugelers, P. (2011). Implementing elementary school nutrition policy: Principals' perspectives. Canadian Journal of Dietetic Practice and Research, 72(4): 205-211. Transende, L., Liu, Y., Gryer, G., & Weitzman, M. (2009). Effects of childhood obesity on hospital care and costs. Health Affairs 28(4), 751-760. Weiss, D.S., and Legrand, C. (2011). Innovative Intelligence: The art and practice of leading sustainable innovation in your organization. Mississauga, Ontario: John Wiley and Sons. Woodward-Lopez, G, Gosliner, W., Samuels, S.E., Craypo, L., Kao, J., and Crawford, P.B. (2010). Lessons learned from evaluations of California's statewide school nutrition standards. American Journal of Public Health, 100(11): 2137-2145.
7. TIMELINE
7.1. Spring 2014:
7.1.1. Initial topic research and development
7.2. Summer 2014:
7.2.1. Continue research and refine mindmap
7.3. Fall 2014:
7.3.1. Finalize mindmap/presentation and create specific timeline for approaching various stakeholders
7.4. Spring 2015:
7.4.1. Begin approaching stakeholders with innovation idea
7.5. Summer 2014:
7.5.1. Continue approaching stakeholders and cultivate relationship with those who are possibly interested
7.6. Fall 2015:
7.6.1. Goal: have at least one school committed to working on this project and begin integrating other stakeholders