How aspects of life for a child will be affected by Cardiomyopathy
by lisieux joseph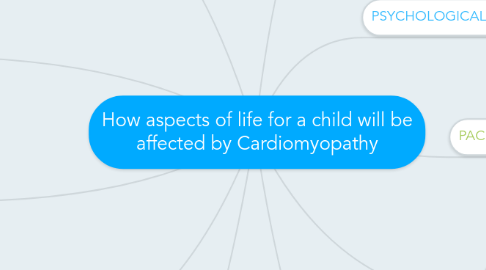 1. PSYCHOLOGICAL ISSUES
1.1. The child may need paediatric psychiatrists to help cope, as they adjust to having a chronic illness. The child's response to having cardiomyopathy often depends on the stage of the child's cognitive development.
2. SURGERY
2.1. The child may need a heart transplant, mechanical heart, or myectomy.
3. DIET
3.1. The child should follow a healthy diet, particularly a low sodium diet.
4. HEALTH MAINTENANCE
4.1. Regular appointments with the cardiologist and other health care professionals. A medical alert bracelet is an important safety measure for the child. Standard childhood immunizations should be up to date.
5. PACING DEVICE
5.1. The child may need implantable devices such as a pacemaker, implantable cardioverter defibrillators (ICDS), biventricular pacing.
6. MEDICATIONS
6.1. The child may need medications to treat and prevent heart failure. The medications may be angiotensin-converting enzyme (ACE) inhibitors, diuretics, beta blockers, antiarryhthmic, and anticoagulants.
7. PHYSICAL ACTIVITY
7.1. The child cannot play competitive sports due to the possibility of a sudden collapse or increased heart failure.
7.2. The child may perform light activities.
8. FAMILY
8.1. The child's family is impacted the constant follow up care. These can be giving medications, keeping track of appointments and maintaining normal family life.
8.2. Siblings may feel neglected due to the constant care and suoervision for the child with cardiomyopathy.
9. FRIENDS
9.1. The child may feel alienated and different to other children as he is limited with the chronic illness and physical activity. The child should be encouraged to spend time with their friends through light activities.
10. SCHOOL
10.1. The child may face troubles adjusting to medication times during school. The child is also limited with school activities.
10.2. Tutoring and learning support may be required to maintain academic performance, help the child to stay in school and keep up with their peers.
10.3. Constant communication between the parents, medical team, and school nurse can help to keep up to date in school.
10.4. The child may feel different and may also be bullied by other children, due to their limitation from the illness.