Underage Drinking
by Aaron Ruff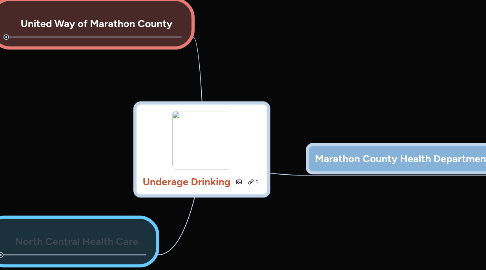 1. North Central Health Care
1.1. Provide Education
1.1.1. Presentations on services and trends in western Marathon County
1.1.1.1. Edgar High School Parent Night. February 11, 2015
1.1.2. Distribute resource materials throughout community
1.2. Build Skills
1.2.1. Provide trainings
1.2.1.1. Guiding Good Choices Training on April 24,2015
1.3. Enhance Access & Reduce Barriers
1.3.1. Increase access to "in school" outpatiet treatment through schools
1.3.2. Develop "toolkit" on how to identify and intervene with youth drug use
2. United Way of Marathon County
2.1. Change policies, systems, and environments to discourage misuse of alcohol and drugs.
2.1.1. Implement policies that are aimed at reducing unsafe use and abuse of alcohol and other drugs.
2.2. Change public attitudes through increase in prevention programs to educate families and youth on consequences. Make sure programs are part of curriculum in schools.
2.2.1. Increase understanding of misuses of alcohol and other drugs as indicated in a LIFE survey question
3. Marathon County Health Department
3.1. Marathon County Alcohol & Other Drugs Partnership
3.1.1. Provide Information
3.1.1.1. Weekly Update
3.1.1.1.1. 800+ recipients
3.1.1.2. Full Coalition Education Sessions
3.1.1.2.1. Hold 6 education sessions per year
3.1.2. Build Skills
3.1.2.1. Provide trainings
3.1.2.1.1. Provide RBS/LEAST to train servers and sellers of alcohol on responsible serving practices
3.1.3. Support Partners
3.1.3.1. Local
3.1.3.1.1. Prepare materials, secure speakers, and lead promotion for semi-monthly AOD Partnership meetings
3.1.3.1.2. Prepare meeting materials, reports, etc. for monthly AOD Board meetings
3.1.3.1.3. Collaborate with local coalitions (Early Years, Central WI Tobacco, Safe Kids) for mutually-reinforcing activites
3.1.3.1.4. Conduct annual partner survey
3.1.3.1.5. Hold monthly meetings with NCHC to monitor progress/update AODA joint work plan
3.1.3.1.6. Track in-kind support for coalition efforts
3.1.3.2. State
3.1.3.2.1. Serve on state AODA task forces
3.1.3.2.2. Present at state AODA conferences
3.1.3.3. National
3.1.3.3.1. Present in national AODA webinars
3.1.4. Change consequences
3.1.4.1. Partner with schools to conduct WI Youth Risk Behavior Survey to direct future initiatives
3.1.4.1.1. Incorporate YRBS data into coalition dashboards and work plans to establish shared measurements and a common agenda
3.1.4.2. Regularly update and maintain existing online resources including websites/social media
3.1.5. Advocate policy change
3.1.5.1. Survey local policy makers on knowledge of alcohol policies
3.1.5.2. Track contacts with public officials - conversation content and time spend
3.1.6. Backbone support
3.1.6.1. See Heroin/Illict Drug Map
3.2. Western Marathon County Healthy Communities
3.2.1. Provide information
3.2.1.1. Implement "Parents Who Host" campaign in western Marathon County school districts
3.2.2. Build skills
3.2.2.1. Increase capacity by linking coalition with local, regional, and state web-based training opportunities
3.2.3. Support partners
3.2.3.1. Prepare meeting materials, resources, reports for monthly WMCHC meetings
3.2.3.2. Share & discuss Community Readiness Reports with western Marathon County stakeholders. April/May 2015
3.2.3.3. Track in-kind support for coalition efforts
3.2.4. Enhance Access & Reduce Barriers
3.2.4.1. Support Peaceful Solutions onsite counseling at Edgar School District
3.2.4.1.1. Seek to expand onsite counseling to other western Marathon County school districts
3.2.5. Change consequences
3.2.5.1. Partner with western Marathon County schools to conduct WI Youth Risk Behavior Survey to direct future initiatives
3.2.5.1.1. Incorporate YRBS data into coalition dashboards and work plans to establish shared measurements and a common agenda
3.2.6. Advocate policy change
3.2.6.1. Facilitate strategic planning for WMCHC using evidence-based best practice strategies
3.2.6.2. Partners with UWSP to create YRBS aggregate data set for western Marathon County
3.2.6.3. Educate/advocate on social host ordinance for western Marathon County municipalities