Web 2.0 Tools Mind Map
by Ashley Yost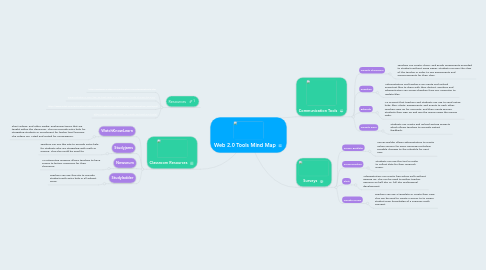 1. Communication Tools
1.1. Google Classroom
1.1.1. Teachers can create, share, and grade assignments provided to students without using paper. Students can join the class of the teacher in order to see assignments and announcements for their class.
1.2. Dropbox
1.2.1. Administrators and teachers can create and upload important files to share with their district. Teachers and administrators can access dropbox from any computer to update files.
1.3. Edmodo
1.3.1. An account that teachers and students can use to send notes, links, files, alerts, assignments, and events to each other. Teachers sign up for accounts, and then create groups. Students then sign up and join the group using the unique code.
1.4. Google Docs
1.4.1. Students can create and upload writing projects which allows teachers to provide instant feedback.
2. Resources
2.1. http://web2014.discoveryeducation.com/web20tools.cfm
2.2. www.edudemic.com/the-35-best-web-2-0-classroom-tools-chosen-by-you/
2.3. http://www.intel.com/education/video/collaborate/resources/Online_Collaborative_Tools.pdf
2.4. http://oedb.org/ilibrarian/101-web-20-teaching-tools/
3. Classroom Resources
3.1. WatchKnowLearn
3.1.1. Short videos, and other media, explaining topics that are taught within the classroom. This can provide extra help for struggling students or enrichment for higher level learners. The videos are rated and sorted for convenience.
3.2. Studyjams
3.2.1. Teachers can use this site to provide extra help for students who are struggling with math or science. This also could be used for
3.3. Newseum
3.3.1. An interactive museum allows teachers to have access to history resources for their classroom.
3.4. Studyladder
3.4.1. Teachers can use this site to provide students with extra help in all subject areas.
4. Surveys
4.1. Survey Buiklder
4.1.1. Survey Builder allows administrators to create online surveys for many purposes including possible changes to the schedule for next year.
4.2. SurveyMonkey
4.2.1. Students can use this tool in order to collect data for their research paper.
4.3. Flisti
4.3.1. Administrators can create free online polls without signing up, This can be used to gather teacher opinions on half day vs. full day professional development
4.4. Google Forms
4.4.1. Teachers can use a template or create their own, This can be used to create a survey to to assess student prior knowledge of a previous math concept.