EDUCATION ISSUES AND SOULTIONS
by Matthew Porche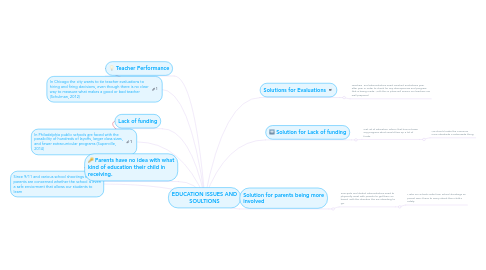 1. Since 9/11 and various school shootings many parents are concerned whether the school is even a safe enviorment that allows our students to learn
2. In Chicago the city wants to tie teacher evaluations to hiring and firing decisions, even though there is no clear way to measure what makes a good or bad teacher (Schulman, 2012)
3. In Philadelphia public schools are faced with the possibility of hundreds of layoffs, larger class sizes, and fewer extracurricular programs (Superville, 2014)
4. Solution for Lack of funding
4.1. Get rid of education reform that has not seen any progress which would free up a lot of funds.
4.1.1. We should make the Common Core Standards a nationwide thing.
5. Teacher Performance
6. Parents have no idea with what kind of education their child in receiving.
7. Solutions for Evaluations
7.1. Teachers and administrators need constant evaluations year after year in order to check for any discrepancies and progress that is being made. With this in place will ensure our teachers are well prepared
8. Lack of funding
9. Solution for parents being more involved
9.1. Principals and district administrators need to physically meet with parents to get them on board with the direction the are intending to go.
9.1.1. Make our schools safer from school shootings so parent won't have to worry about their child's safety.