Factors affecting a person's ability to resist pressures to conform and obey.
by Annelise Quayson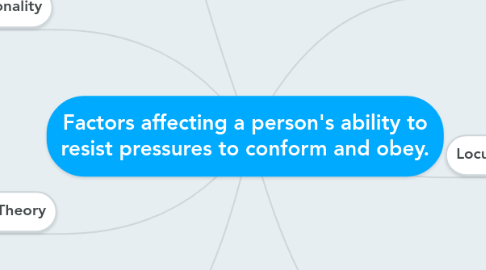 1. Social Support
1.1. If conformity is unanimous, conformity is reduced. The non- conforming person acts as a model.
1.2. The pressure to obey is reduced if there is another person seen to disobey. The act as the 'model'
2. Locus of control
2.1. Internal
2.1.1. More likely to exercise individual behaviour and resist pressure to conform or obey.
2.2. External
2.2.1. Believe behaviour factors of which they have little control over their own behaviour.
3. Moral reasoning
3.1. Individuals with high moral reason are more likely to display individual behaviour.
3.1.1. People with high MR can sometimes be overwhelmed by the power of the situation
3.2. However, moral reasoning does not always match moral actions
4. Systematic Processing
4.1. When people are given the time to think about the consequences of what they have been asked/forced/pressured to do they may resist.
4.2. The yield to group pressure or circumstances is situational.
5. Personality
5.1. Instead of Milgram's situational explanations to obedience there are also dispositional explanations
5.1.1. It argues that personality differs can alters levels of obedience
5.1.2. They are more likely to obey, more intolerant to others, they like structure and are submissive to others.
6. Reactance Theory
6.1. Where wetting our views to a position opposite to expected.
6.1.1. E.g. when you want someone to buy something you tell them not to buy it.
7. Psychosocial Identity
7.1. We are more likely to resist conformity if the minority is one we identify with.