READING FOR COMPREHENSION IN FORENSIC SCIENCE AND THE WORKPLACE
by JESSICA ROLLINS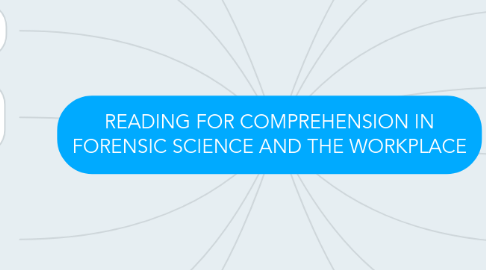 1. WITHOUT COMPREHENSION OF READING YOU CAN'T UNDERSTAND WHAT IS EXPECTED TO DO YOUR JOB PROPERLY
2. COMPREHENSION IN YOUR STUDIES
3. UNDERSTANDING THE HISTORY OF FORENSIC SCIENCE AND METHODS OF ANCIENT SOURCES
4. UNDERSTANDING SCIENCE
5. UNDERSTANDING OF THE LEGAL STANDPOINT
6. DIFFERENT FIELDS OF FORENSIC SCIENCE AND MAIN UNDERSTANDING OF EACH
7. UNDERSTANDING OF THE WORKPLACE LAWS/RULES
8. REFERENCES: AUTHORS, QUOTES, WEBSITES, ARTICLES/READINGS
9. FORENSIC SCIENTISTS ANALYZE EVIDENCE IN AN INVESTIGATION. SOME TRAVEL TO COLLECT IT AND SOME OCCUPY A LABORATORY ROLE.
10. THE WORD FORENSIC COMES FROM THE LATIN TERM FORENSIS MEANING, "OF OR BEFORE THE FORUM"
11. AVL.LIB.AL.US, WIKIPEDIA.COM, APUS LIBRARY, HTTPS://WWW.SOKANU.COM/CAREERS/FORENSIC-SCIENCE-TECHNICIAN/
12. MUST PASS A PROFICIENCY EXAM BEFORE THEY MAY PERFORM INDEPENDENT CASEWORK OR TESTIFY IN COURT.
13. THERE ARE 11 DIFFERENT FEILDS YOU CAN GO INTO : CRIMINALISTICS, DIGITAL/MULTIMEDIA, ENGINEERING SCIENCES, GENERAL, JURISPRUDENCE,ODONTOLOGY, PATHOLOGY/BIOLOGY, PHYSICAL ANTHROPOLOGY, PSYCHIATRY AND BEHAVIORAL SCIENCE, QUESTIONED DOCUMENTS, TOXICOLOGY "WWW.FORENSICSCIENCECAREERS.NET/FORENSIC-SCIENTIST/MAJORS.HTML
14. CRIMINAL, CIVIL, REGULATORY LAWS
15. AMBROISE PARE'S WORK LAID THE GROUNDWORK FOR FORENSIC TECHNIQUES