12.1 Agendas
by Wendy Aguilar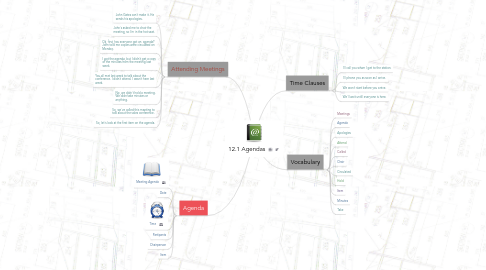 1. Vocabulary
1.1. Meetings
1.2. Agenda
1.3. Apologies
1.4. Attend
1.5. Called
1.6. Chair
1.7. Circulated
1.8. Hold
1.9. Item
1.10. Minutes
1.11. Take
2. Time Clauses
2.1. I´ll call you whwn I get to the station.
2.2. I´ll phone you as soon as I arrive.
2.3. We won´t start before you arrive.
2.4. We´ll wait untill everyone is here.
3. Attending Meetings
3.1. John Gates can´t make it. He sends his apologies.
3.2. John´s asked me to chair the meeting, so I´m in the hot seat.
3.3. Ok, first, has everyone got an agenda? John told me copies were circulated on Monday.
3.4. I got the agenda, but I didn´t get a copy of the minutes from the meeting last week.
3.5. You all met last week to talk about the conference. I didn´t attend. I wasn´t here last week.
3.6. No, we didn´t hold a meeting. We didn´take minutes or anything.
3.7. So, we´ve called this meeting to talk about the sales conference.
3.8. So, let´s look at the first item on the agenda.
4. Agenda
4.1. Meeting Agenda
4.2. Date
4.3. Time
4.4. Partipants
4.5. Chairperson
4.6. Item