ATTENDING MEETINGS
by Estela Gutierrez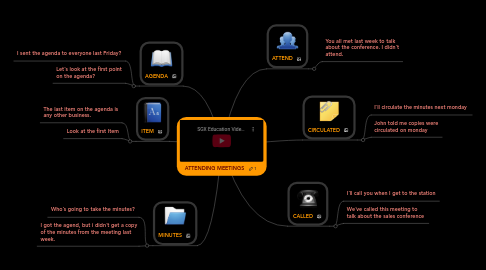 1. MINUTES
1.1. Who´s going to take the minutes?
1.2. I got the agend, but i didn´t get a copy of the minutes from the meeting last week.
2. ITEM
2.1. The last item on the agenda is any other business.
2.2. Look at the first Item
3. CALLED
3.1. I´ll call you when I get to the station
3.2. We´ve called this meeting to talk about the sales conference
4. AGENDA
4.1. I sent the agenda to everyone last Friday?
4.2. Let´s look at the first point on the agenda?
5. ATTEND
5.1. You all met last week to talk about the conference. I didn´t attend.
6. CIRCULATED
6.1. I`ll circulate the minutes next monday
6.2. John told me copies were circulated on monday