Australian Curriculum: Technologies
by Clare Thorpe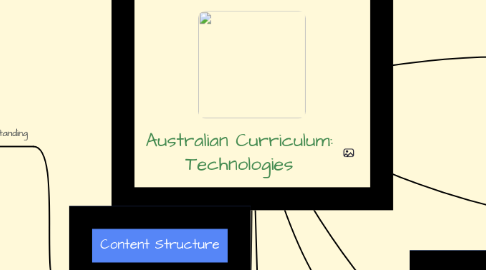 1. Content Structure
1.1. Knowledge and understanding
1.1.1. Design and Technologies
1.1.1.1. Technologies and our society: How the technology we use impacts on our lives and our society
1.1.1.2. Technologies context: how technologies can be designed to meet a range of varying contexts..
1.1.2. Digital Technologies
1.1.2.1. Digital Systems: Understanding the components of a system (hardware, software and networks and how they are used)
1.1.2.2. Data Representation: How data can be represented and structured symbolically
1.2. Processess and Production kills
1.2.1. Design and Technologies
1.2.1.1. Creating designed solutions by applying the following skills: investigating, generating, reducing, evaluating and collaborating and managing
1.2.2. Digital technologies
1.2.2.1. Collecting, managing and analysing data: the nature and properties of data and how the data is collected and then analysed.
1.2.2.2. Digital implementation: the process in which digital solutions are implemented
1.2.2.3. Creating solutions by applying the following skills of investigating and defining, designing, producing and implementing, evaluating and collaborating and managing.
2. Key Ideas
2.1. Within the technologies curriculum there are three key ideas that support the knowledge and the skills that the students will develop through their emersion in the learning program.
2.1.1. Thinking in Technologies
2.1.1.1. Design Thinking
2.1.1.2. Computational Thinking
2.1.1.3. System thinking
2.1.1.4. Creative/Critical Thinking
2.1.2. Project management
2.1.2.1. Developing skills to be able to manage projects through the use of the required process.
2.1.3. Creating preferred futures
2.1.3.1. The overarching idea of the technology curriculum. Teaching students about the benefits and risk of the solutions in technology and having them understand the ways that these solutions can impact on liveability, economic prosperity and environmental sustainability.
3. Content Structure: Subjects
3.1. The Technologies curriculum is divided into two different learning areas. These two learning areas are Design and Technologies and Digital Technologies. These two learning concepts are broken down into two strands which are knowledge and understandings and processes and production skills. it is these two strands that form the foundation for the content descriptors and the elaborations.
3.1.1. Design and Technologies
3.1.1.1. Students use their skills in design thinking in order to create and design solutions that are authentic in their use.
3.1.2. Digital Technologies
3.1.2.1. Students use their skills in computational thinking to create and produce authentic solutions.
4. Rationale
4.1. Technology is a driving force to enable us to expand and grow and with that the Australian Curriculum has created the 'Technologies' learning area. This area is designed to provide students with the abilities and skills to enrich and impact our world for future generations to come.
5. Achievement Standard
5.1. The achievement standards demonstrate the quality of learning the students should be able to demonstrate at a specific point of their education.
5.2. A student needs to have a well placed understanding at this band before commencing the learning required at the next achievement level.
5.3. Achievement standards reflect the differences outlined in the scope of the learning as well as showing the relationship between the two strands.
5.4. The sequence of the achievement standard within the technology curriculum, shows the progression of the unit, demonstrating a broad sequence of expected learning by the end of their band.
6. Aims and objectives
6.1. The Technologies learning area has five key aims that develop the foundation of all the content descriptors from Foundations to Year 10. The five key aims are as followed:
6.1.1. Investigative, design, plan, manage, create and evaluate solutions
6.1.2. Using traditional, contemporary and emerging technologies and understand how technologies have developed over time within a society
6.1.3. Make informed and ethical decisions about the role, impact and use of technologies in the economy, environment and society
6.1.4. Engage confidently with technologies − materials, data, systems, components, tools and equipment − when designing and creating solutions
6.1.5. Critique, analyse and evaluate problems, needs or opportunities to identify and create solutions.
7. Student Diversity
7.1. Gifted and talented students
7.2. Students with disabilities. Under the Disability Discrimination Act 1992 and the Disability Standards for Education 2005 require educational services to provide students with disabilities access to the same curriculum as those students without disabilities. Adjustments may need to be made to support the students in demonstrating their learning and the way they are taught.
7.3. English as an additional language or dialect.
8. General Capabilities
8.1. Literacy: Students learn how to communicate their ideas and understandings of the concept as well as being able to write, read and interpret instructions and project outlines for technologies like labelled diagrams.
8.2. Numeracy: Gives the students the opportunities to use their mathematical skills and knowledge to interpret and use in a variety of real-life situations.
8.3. Information and Communication technology: In digital technologies students apply their knowledge of how to use technology to develop and understanding of the characteristics of data, digital systems, audiences, procedures and computational thinking. In Design and technology students are able to use a variety of applications and hardware to assist them in realising their ideas.
8.4. Critical and creative thinking: Were the students use their imagination in order to generate, create and evaluate their ideas critically.
8.5. Personal and social capability: Students use their personal and social skills in order to work and engage in their project in a collaborative manner.
8.6. Ethical understanding: Students develop the skills to understand and apply ethical and social responsibilities when creating, sharing and using technologies in an collaborative environment.
8.7. Intercultural understanding: Students consider the diversity of cultures at a local, regional, national and global scale with focus on how these technologies can be used in these varying communities.
9. Cross-Curriculum Priorities
9.1. Sustainability
9.2. Australia's engagement with Asia
9.3. Aboriginal and Torres Strait Islander histories and cultures
10. Content descriptors
10.1. Content descriptors list the relevant knowledge and skills the students will learn during each band.
10.2. it outlines what the teachers are expected to teach and what the students are required to learn not the approaches to teaching the knowledge.
10.3. Each of the bands have been organised to allow the elements to be shown in a developmental sequence of concepts, skills and processes.
11. Content Elaboration
11.1. There are elaborations for each of the content descriptors for Foundations - Year 10.
11.2. Designed to support teachers in being able to have a shared understanding of the content descriptors
11.3. These elaborations are not designed to be comprehensive and encompass all aspects that need to be taught or the aspects of the content descriptor.
12. Key Concepts
12.1. Digital Technologies
12.1.1. Abstraction
12.1.1.1. Cognitive skill
12.1.1.2. Computational thinking
12.1.1.3. Problem solving
12.1.2. Specification, algorithms, implementation
12.1.2.1. Algorithms how systems work
12.1.3. Implementation
12.1.3.1. Programming
12.1.4. Data Interpretation
12.1.4.1. Patterns
12.1.4.2. Contexts
12.1.5. Data
12.1.5.1. Data collection
12.1.5.2. Data representation
13. Band Descriptors
13.1. Foundation - Year 2
13.2. Year 3 and 4
13.3. Year 5 and 6