ELEMENT 23: Providing Resources and Guidance
by Freeman Fouts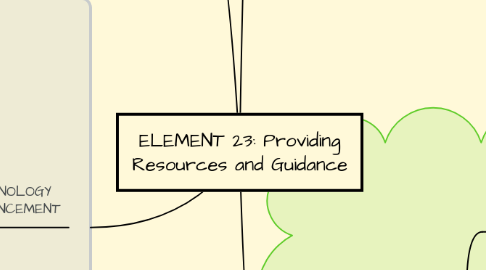 1. INTRODUCTION
1.1. This element is crucial to the process of engaging students in practices governed by higher-order thinking. As much of this week's focus is on strategies focusing on cognitively complex tasks, I feel it is appropriate to examine this final element, which affords learners the opportunity to deeply assess their work and verify its validity.
1.2. The focus of this element is resources specific to higher-order tasks. Each strategy tethered to this element is designed to help learners in the correct execution of these tasks (Magana & Marzano, 2014).
2. TECHNOLOGY ENHANCEMENT
2.1. PROVIDING SUPPORT FOR CLAIMS
2.1.1. The greatest key to technology use in supporting claims is that the information gathered must be credible. To that end, students have much at their disposal; just a simple use of a search engine will likely provide support for a claim. But, a careful process of establishing accuracy and credibility must then take place. As students find sources that support their claims, they can use social technology (such as a blog or a bookmarking page like Delicious) to catalog and compare these sources.
2.2. EXAMINING CLAIMS FOR ERRORS
2.2.1. Simple research can be conducted using technology to examine claims. Search engines and other web resources - if deemed credible - are effective tools to "weed out" errors. However, a higher-level task lies in the student's understanding of the error they have made (Magana & Marzano, 2014). Using collaborative tools such as polling software can identify student comprehension in this regard. Additionally, social bookmarking sites (such as Delicious) are available to students as resources to help with the annotation and comparison processes.
2.3. SCORING SCALES
2.3.1. Magana & Marzano (2014) present the use of scoring scales as a sometimes "fluid" process. In cases where the student has an opportunity to increase mastery during the course of a unit, an editable platform (such as Google Drive) is a good tool for frequent updates to a rubric. To better facilitate discussion, it is also possible for teachers to use polling software to survey student mastery of cognitive tasks.
2.4. FEEDBACK
2.4.1. The technological possibilities related to the process of providing feedback are vast. Interactive, collaborative, cloud-based software (such as Google Drive) allows for teachers and peers to comment and/or edit student work. Even if it is not cloud-based, other processing software allows for similar interaction and commentary. It is also possible to use simple interactive communications, such as e-mail, text messaging, or the class LMS page, to engage in the feedback process (Magana & Marzano, 2014).
3. TIPS FOR IMPLEMENTATION
3.1. PROVIDING SUPPORT FOR CLAIMS
3.1.1. It is of paramount importance that students understand that a claim must be supported. Whether they are drafting a hypothesis in a science class or writing a thesis statement for a literature research paper, it must be clear that students understand how to adequately support their ideas. In the current generation, there exists a mindset of "I'll just Google it." To implement this practice, the effective teacher must encourage students to reach beyond what they can easily find. Students must be made aware that simple regurgitation of facts they find somewhere is not going to give their own claims very much staying power.
3.2. EXAMINING CLAIMS FOR ERRORS
3.2.1. Much like the aforementioned importance of establishing a solid foundation for a claim, it is also important to teach students how to look for errors. These errors can come from a variety of places: a biased opinion, a misinformed author blogging on the Internet, a miscalculation in a math problem. The great lesson for implementation here is that, when students find errors, they are then mired in a "teachable moment." An effective teacher using this practice will not only help the student to rectify the error (if possible), but also help them to understand why and how the error was made.
3.3. SCORING SCALES
3.3.1. The use of scoring scales is, to a degree, an extension of the previous two strategies. The process of implementing self-evaluative scales is probably simple enough in and of itself. However, complexity arises when the student has to learn how to honestly answer when asked about their mastery of a learning objective or complex task. For this reason, honest and firm expectations should be established when asking students to self-evaluate. In the name of "looking good," many students may be reluctant to admit when they do not understand a concept. As such, the initial implementation of this strategy may be best accomplished through a private platform (such as a poll question or a document shared only with the teacher).
3.4. FEEDBACK
3.4.1. The implementation of this strategy mirrors the other three. A foundation must be laid that ensures honest and open discussion and that requires students to be accountable to themselves, their peers, and their teacher. Feedback that is disingenuous or inaccurate is, frankly, a waste of time and energy for all parties involved. Students must be coached on how to give and receive feedback, and this practice must be modeled by the effective teacher.
4. STRATEGIES
4.1. PROVIDING SUPPORT FOR CLAIMS
4.1.1. Students are prompted by teachers to examine the degrees of support for their claims. Specifically, students are to examine GROUNDS (initial evidence), BACKING (specific support), and QUALIFIERS (exceptions). This process affords students the opportunity to verify the legitimacy of their claims (in a variety of subject areas), and can be greatly enhanced by the use of technological tools (Magana & Marzano, 2014).
4.2. EXAMINING CLAIMS FOR ERRORS
4.2.1. Just as claims made by students must be adequately and appropriately supported, so too must they be accurate. In this strategy, students are taught how to carefully analyze their claims for errors in reasoning and results (Magana & Marzano, 2014). Various approaches to this strategy depend largely on whether or not the claim is based on qualitative or quantitative information.
4.3. SCORING SCALES
4.3.1. Magana & Marzano (2014) posit that students can self-monitor and evaluate their progression of understanding when engaging in complex tasks. A three-level scale is recommended, where the target goal is quantified by three points, a simpler version of the goal is labeled at two points, and a more complex version of the goal is rated at four points.
4.4. FEEDBACK
4.4.1. The process of providing feedback should be modeled by the teacher. Students receive feedback from teachers and should then be more able to provide feedback to one another. Feedback discussions center on the correctness of answers, the performance of tasks, and the degree of improvement shown (Magana & Marzano, 2014).