GÉNEROS MUSICALES
by Emily Velasquez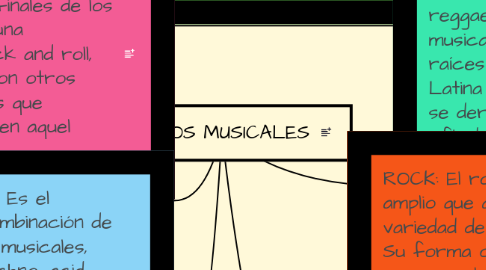 1. POP: La música pop es un género de música popular que tuvo su origen a finales de los años 1950 como una derivación del rock and roll, en combinación con otros géneros musicales que estaban en moda en aquel momento
2. CLÁSICA: La música clásica es la corriente musical que comprende principalmente la música producida o basada en las tradiciones de la música litúrgica y secular de Occidente, principalmente Europa Occidental
3. REGGEATON :(: El reguetón1 o reggaetón es un género musical bailable que tiene sus raíces en la música de América Latina y el Caribe. Su sonido se deriva del reggae jamaicano, influido por el hip hop.
4. ROCK: El rock es un término amplio que agrupa a una variedad de géneros musicales.1 Su forma originaria, conocida como rock and roll, surgió mayormente de la combinación de dos géneros anteriores como eran el rhythm and blues y el country. La música rock también se nutrió fuertemente del blues y el folk, e incorporó influencias del jazz, la música clásica y otras fuentes.
5. TECHNO/TRANCE: Es el resultado de la combinación de diferentes estilos musicales, como el house, techno, acid house, música clásica, synthpop, pop, ambient, música cinematográfica, new age e industrial.