FEEDSTUFF STORAGE
by Amirah Mustaffa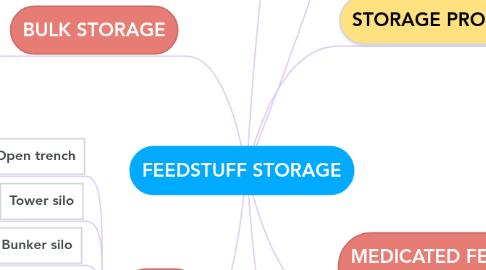 1. Keep feed storage facilities dry, clean, and free of contaminants (medications, parasiticides, pesticides, herbicides, fertilizer, solvents, rodents, birds, manure, etc.)
1.1. Inspect all feed equipment, including scales, mixers, bins, trucks, feed bunks, and feeders regularly.
1.2. Clean and repair all feed equipment when necessary to ensure proper functioning and to avoid unsafe feed contamination.
2. BULK STORAGE
2.1. all handling, from production to loading on transport vessels, becomes simpler, cheaper and results in a considerable saving in manpower used in maintenance, filling, weight control and stowage of bags
2.2. Hopper bottom bins
2.2.1. Side-draw hoppers
2.2.1.1. concentrates and ground feeds
2.2.1.2. 20 tonnes
2.2.2. Center-draw hoppers
2.2.2.1. grain and pellet
2.2.2.2. >20 tonnes
2.3. Liquid tanks
2.3.1. liquid feed
2.3.1.1. Tank with a pipe that discharge directly into the mixer wagon is sample and convenient.
2.4. Flat storage bins
2.4.1. concrete bottom bins with wooden, steel or concrete.
2.4.1.1. Direct access to the material with a front-end loader allows large quantities of material to be quickly and easily added to a feed mixture.
3. Factors on storage method
3.1. climatic conditions
3.2. production capacity
3.3. use of antioxidant and transport
3.4. marketing arrangements
4. Moisture migration can result :
4.1. condensation
4.1.1. inner surface of the roof should be insulated and the stores should be provided with ceilings
4.1.1.1. to avoid condensation and drip at night, with consequent localized mould growth and lumping
4.2. lumping
4.3. mould growth
4.3.1. Mould growth (as distinct from bacterial growth) may lead to spontaneous heating up to about 40°C.
4.3.1.1. ensure that all bins and silos are labeled properly.
4.4. moisture proof stores - to protect feedstuff from moistures
5. STORAGE SHEDS
5.1. Single floor
5.1.1. Owing to the weight and the pressures exerted on the walls
5.2. Multistorage sheds
5.2.1. concrete construction throughout, particularly the floors and outer walls
6. SILOS
6.1. Open trench
6.2. Tower silo
6.3. Bunker silo
6.4. Square or rectangular cross-section
6.5. Cylindrical silos
6.6. Use in the feedstuff industry in recent years, not only because they offer good protection to meal during storage, but also because they increase flexibility in handling
7. MEDICATED FEED ADDITIVE STORAGE
7.1. Store medicated feed additives separate from all other feeds.
7.2. To reduce cross-contamination between medicated and non-medicated feeds:
7.2.1. use separate handling and feeding equipment.
7.2.2. If separate equipment cannot be used, produce and feed nonmedicated feeds first.
7.2.3. Flush and/or clean mixing, handling, storage, and feeding equipment by physical means.
8. STORAGE PROBLEMS
8.1. Weight Loss
8.1.1. involves sacked grain or oil cakes when the appearance of large insect population.
8.2. Economic Loss
8.2.1. the cost incurred in inspection, prevention, and control to maintain quality standards (although considered to be of overriding importance in most industrialized countries)
8.3. Quality Loss
8.3.1. insect attack on feedstuffs
8.3.2. Most stored feed material undergo some chemical changes that alter their flavour and nutritive value
8.4. Health Risk