The possiblity of online game to enhance learning in primary school in Mainland China
af 媛 文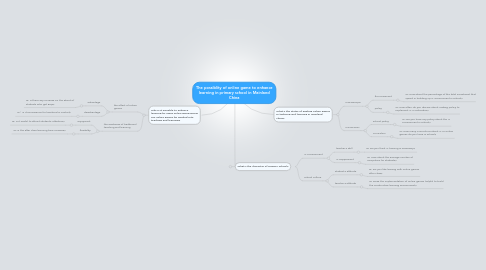 1. What's the character of primary school?
1.1. IT environment
1.1.1. teacher's skill
1.1.1.1. Q: Do you think IT training is necessary?
1.1.2. IT equipement
1.1.2.1. Q: How about the average number of computers for students?
1.2. school culture
1.2.1. student's attitude
1.2.1.1. Q: Do you like leaning with online games after class?
1.2.2. teacher's attitude
1.2.2.1. Q: Dose the implementation of online games helpful to build the constructive learning environment?
2. Why is it possible to enhance leanring by using online games?How can online games be applied into teaching and learning?
2.1. the effect of online games
2.1.1. advantage
2.1.1.1. Q: Is there any increase on the about of students who get 80%?
2.1.2. disadvantage
2.1.2.1. Q:Is it convinience for teachers to control?
2.2. the weakness of traditional teaching and learning
2.2.1. enjoyment
2.2.1.1. Q: Is it useful to attract students' attention?
2.2.2. flexibility
2.2.2.1. Q: Is the after class learning time increase?
3. What's the status of appling online games in teahcing and learning in mainland china?
3.1. macroscopic
3.1.1. the invesment
3.1.1.1. Q: How about the percentage of the total investment that spend in building up IT environment in school?
3.1.2. policy
3.1.2.1. Q: How often do you discuss about making policy to implement IT in education?
3.2. microcomic
3.2.1. school policy
3.2.1.1. Q: Do you have any policy about the IT environment in school?
3.2.2. curriculum
3.2.2.1. Q: How many curriculums about IT or online games do you have in school?