Allocated Student: #1. Male. Lives with mother, who escaped from Rwanda, and older brother. Loves art. Has learning difficulties.
von Vestal Delpechitra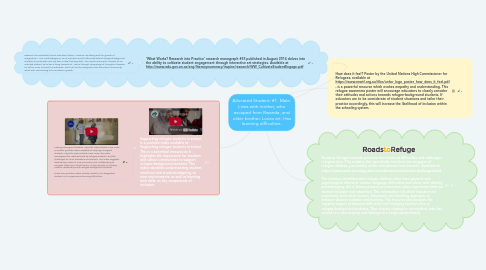 1. 'What Works? Research into Practice' research monograph #53 published in August 2014 delves into the ability to cultivate student engagement through interactive art strategies. Available at http://www.edu.gov.on.ca/eng/literacynumeracy/inspire/research/WW_CultivateStudentEngage.pdf
1.1. Research has indicated that art education fosters "creative risk-taking and the growth of imagination". This is advantageous, as art activities would sufficiently extend refugee-background students to participate and use their critical thinking skills. This resource was also relevant to our selected student, as he has a liking towards art. Hence through integrating art throughout lessons, he will be more inclined to participate, which will aid his integration into the school community, whilst also contributing to his academic growth.
2. Roads to Refugee website presents the numerous difficulties and challenges refugees face. This website also specifically mentions the struggles of refugee children, particularly within educational environments. Available at https://www.roads-to-refuge.com.au/settlement/settlement-challenges.html The resource identified that refugee children often have physical and psychological effects of trauma, language difficulties and issues with identity and belonging. All of these personal circumstances place significant strain on student inclusion and education. This information will allow educators to proactively tailor their lessons, classrooms and teaching approach, to enhance student inclusion and learning. The resource also analyses the negative impact of financial difficulties and changing familial roles on refugee-background students. Thus directly relating to our student, who has moved to a new country, and belongs to a single-parent family.
3. How does it feel? Poster by the United Nations High Commissioner for Refugees, available at https://www.nswtf.org.au/files/unhcr_lego_poster_how_does_it_feel.pdf , is a powerful resource which evokes empathy and understanding. This refugee awareness poster will encourage educators to closely consider their attitudes and actions towards refugee-background students. If educators are to be considerate of student situations and tailor their practice accordingly, this will increase the likelihood of inclusion within the schooling system.
4. Supporting refugee students in school, is a youtube video available at Supporting refugee students in school This is a beneficial resource as it highlights the importance for teachers and school communities to support refugee-background students. The video identifies understanding student emotions and students adapting to new environments, as well as learning new skills, as key components of inclusion.
4.1. Helping Immigrant Students Adjust to New Schools, New Lives, is another youtube video available at Helping Immigrant Students Adjust to New Schools, New Lives This video investigates the realities faced by refugee students, and the challenges for local educators and schools. The video suggests developing modes of communication and collaborating to navigate unfamiliar cultural terrain, as key aspects of creating positive relationships with refugee-background students. These two youtube videos directly relate to our designated student, as he experiences learning difficulties.