Fast Track to Innovation FTI 2020 Call
von Vasile Stoica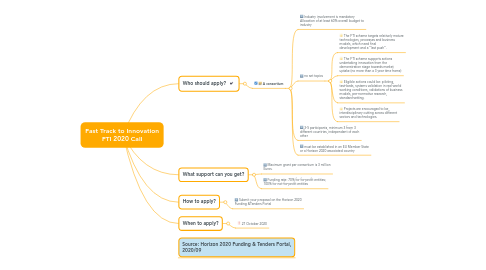 1. Who should apply?
1.1. A consortium
1.1.1. Industry involvement is mandatory Allocation of at least 60% overall budget to industry
1.1.2. no set topics
1.1.2.1. The FTI scheme targets relatively mature technologies, processes and business models, which need final development and a "last push".
1.1.2.2. The FTI scheme supports actions undertaking innovation from the demonstration stage towards market uptake (no more than a 3 year time frame)
1.1.2.3. Eligible actions could be: piloting, test-beds, systems validation in real-world working conditions, validations of business models, pre-normative research, standard-setting.
1.1.2.4. Projects are encouraged to be interdisciplinary cutting across different sectors and technologies.
1.1.3. 3-5 participants, minimum 3 from 3 different countries, independent of each other
1.1.4. must be established in an EU Member State or a Horizon 2020 associated country
2. When to apply?
2.1. 27 October 2020
3. How to apply?
3.1. Submit your proposal on the Horizon 2020 Funding &Tenders Portal
4. What support can you get?
4.1. Maximum grant per consortium is 3 million Euros.
4.2. Funding rate: 70% for for-profit entities; 100% for not-for-profit entities
5. Source: Horizon 2020 Funding & Tenders Portal, 2020/09