USAGE OF WEB 2.0 TECHNOLOGIES IN A BUSINESS
von Kim Kgatle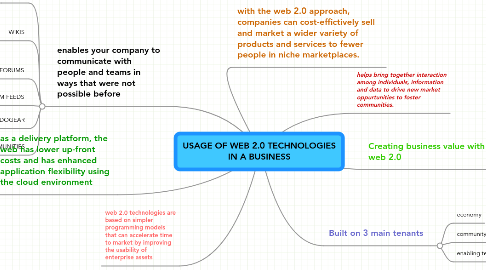 1. helps bring together interaction among individuals, information and data to drive new market oppurtunities to foster communities.
2. enables your company to communicate with people and teams in ways that were not possible before
2.1. BLOGS
2.1.1. to present your idea and get feedback from others
2.2. WIKIS
2.2.1. team members can use to create and manage content such as designs, presentations or other group material
2.3. FORUMS
2.3.1. keep a journal or blog of your meetings
2.4. ATOM FEEDS
2.4.1. intergrate and render feeds from your favourite atom
2.5. DOGEAR
2.5.1. save, share and organize bookmarks
2.6. COMMUNITIES
2.6.1. create,find,join and work with communities of people who share a common interest
3. Built on 3 main tenants
3.1. economy
3.2. community
3.3. enabling technologies
4. web 2.0 technologies are based on simpler programming models that can accelerate time to market by improving the usability of enterprise assets
5. with the web 2.0 approach, companies can cost-effictively sell and market a wider variety of products and services to fewer people in niche marketplaces.
6. Creating business value with web 2.0
6.1. making use of underutilized resources
6.2. letting users be co-creators and contributors
6.3. nurturing unique, hard to reproduce data resources
7. as a delivery platform, the web has lower up-front costs and has enhanced application flexibility using the cloud environment