Bloom's Digital Taxamony
por Cory McCall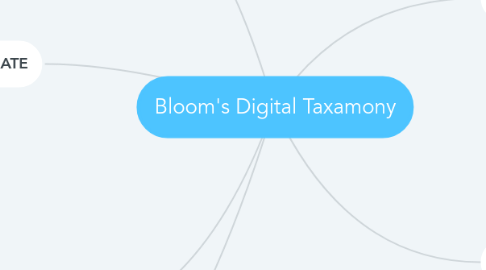 1. CREATE
1.1. Pow Toons: Students can create animated videos or presentations.
1.2. Sound Trap: Create a Podcast of video showing a science experiment.
1.3. Book Creator: Students digitally share with others what they are learning. .
1.4. Stencyl: Snapping blocks of code together, students establish new games.
1.5. Scratch: Students learn math and create expressions by the use coding.
2. APPLY
2.1. PenPals: Cross-cultural collaboration
2.2. Mural: Shows how students can contributing to a project.
2.3. Growth Mindset: Involves multiple viewpoints for problem solving.
2.4. Ladder of Inference: Student use critical thinking from past experience as to data relevance.
2.5. Wordables: Determine background knowledge about a topic.
3. ANALYSIS
3.1. Blogs: Allow further discussion on a topic.
3.2. Online Fourms discussing various topics
3.3. GoFormative: Respond to questions by typing, drawing,, and collaboration.
3.4. Spiral: Student Collaberation
4. EVALUATE
4.1. TED-Ed: Can be used for digital collaboration of opinion.
4.2. idebate.org: Students can debate their opinions on topics.
4.3. Live Binders: Students provided straightforward arguments and how to construct them..
4.4. Buzzer App: Students are on opposite sides of an argument and must present their opinions to the case.
4.5. Google Sheets: Take note of a debate of opinions about a topic.
5. REMEMBER
5.1. Evernote: Setup Reminders
5.2. Quizlet: Memory Recall
5.3. Neuroscience For Kids: Assist students via. memory recall testing
5.4. Word List Recall: Testing a students verbal span.
5.5. Lumosity: Activities improve student memory.
6. UNDERSTAND
6.1. Bouncy Balls: Understand noise in the classroom.
6.2. Zero Noise Classroom: Understand noise in the classroom.
6.3. Yacapaca: quizzes
6.4. Survey Polling
6.5. Screencastify: Students will collaborate to understand.