The Four Corrections That Will Make Your Blog Posts Shine
por Danny Forest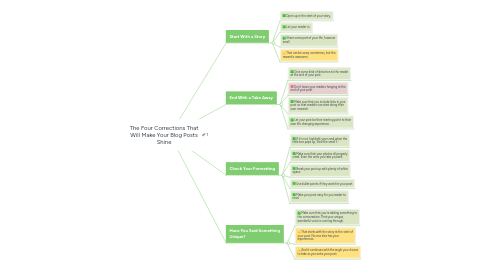 1. Start With a Story
1.1. Open up in the start of your story.
1.2. Let your reader in.
1.3. Share some part of your life, however small.
1.4. That can be scary sometimes, but the reward is awesome.
2. End With a Take Away
2.1. Give some kind of direction to the reader at the end of your post
2.2. Don't leave your readers hanging at the end of your post
2.3. Make sure that you include links in your post so that readers can start doing their own research.
2.4. Let your post be their starting point to their own life changing experience.
3. Check Your Formatting
3.1. If it's not, highlight yours and when the little box pops up, click the small 't.'
3.2. Make sure that your photos all properly cited. Even the ones you take yourself.
3.3. Break your post up with plenty of white space
3.4. Use bullet points if they work for your post
3.5. Make your post easy for you reader to read.
4. Have You Said Something Unique?
4.1. Make sure that you're adding something to the conversation. That your unique, wonderful voice is coming through.
4.2. That starts with the story at the start of your post. No one else has your experiences.
4.3. And it continues with the angle you choose to take as you write your post.