5-Step Action Plan for promoting social inclusion, understanding, and mutual respect, so that no child is left behind in their language learning development, as well as other areas of learning.
por Diana Lim-Kemper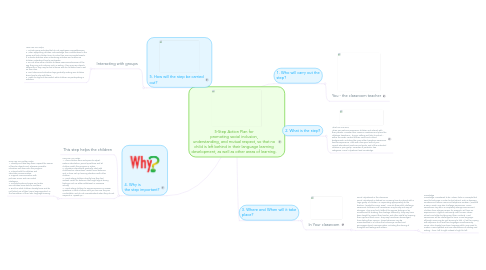 1. 1. Who will carry out the step?
1.1. You - the classroom teacher
2. 2. What is the step?
2.1. What You Can Do? When you welcome newcomer children and interact with their parents, consider their views on readiness and place the children's transitions – to your setting and later to school – within the wider context of their social and cultural backgrounds, including the many other transitions newcomer families experience. Look with new eyes, both at your current educational practices and goals, and at the individual children in your group. Consider, in particular, two categories: Social Adjustment and Knowledge.
3. 4. Why is the step important?
3.1. This step helps the children
3.2. How Can You Help? 1. Allow children time and space to adjust. Reduce stimulation, permit quiet time and let children watch the program in action. 2. Introduce interactions gradually. Start with child/teacher interactions, model social behavior, and, in time, set up learning situations with other children. 3. Avoid asking children directly how they feel. Instead, watch for behavior that might signal strong feelings, such as either withdrawal or excessive activity. 4. Avoid asking children to express opinions or answer questions in front of others until you are sure they are comfortable, and do not misunderstand when they do not respond or "speak up."
3.2.1. How Can You Further Help? 1. Identify and label key items. Repeat the names of familiar objects and, wherever possible, introduce real items into the program. 2. Interact with the children and stimulate communication. 3. Support communication with pictures, music and non-verbal strategies. 4. Provide books and paper and make sure children know how to use them. 5. Build on what children already know and do not forbid use of their home language which is the foundation of their later language learning.
4. 3. Where and When will it take place?
4.1. In Your classroom
4.1.1. Social Adjustment in the classroom Social Adjustment is defined as "Knowing how to interact with a large group of children, or responding appropriately to the teacher" (Dockett & Perry, 2005). How do these skills challenge newcomer children? First, newcomers may be shy and wary of strangers. They may find it difficult to express feelings or be accustomed to showing their feelings differently. They may have been taught to respect their teacher and other adults by lowering their eyes and their voice. They may have been discouraged from stating their opinion. These behaviors may be misunderstood in a culture that values eye contact and encourages direct communication, including the sharing of thoughts and feelings with others.
4.1.1.1. Knowledge Knowledge, considered to be "Ideas, facts or concepts that need to be known in order to start school, such as knowing numbers and letters, name and telephone number" (Dockett & Perry, 2005), may also challenge newcomers. Some newcomers may be in a completely strange environment. Children from refugee camps, for example, will have no experience in a typical community, with houses, stores, schools and other buildings and their contents. Most newcomers will be challenged to learn a new language, although some may be just learning to talk. All will be coping with exposure to at least two languages simultaneously. Some, who already have basic language skills, may need to master a new alphabet and new conventions of reading and writing – from, left to right instead of right to left.
5. 5. How will the step be carried out?
5.1. Interacting with groups
5.1.1. How Can You Help? 1. Include group activities that do not emphasize competitiveness. 2. When supporting children, acknowledge their contributions to the group and help children learn to value their own accomplishments. 3. Provide direction when introducing activities and make sure children understand how to participate. 4. Do not allow other children to tease newcomers because of the way they carry out routines, such as eating – they may use utensils differently or they may be fed at home and do not know how to eat on their own. 5. Limit choice and introduce toys gradually, making sure children know how to play with them. 6. Watch for signs of discomfort while children are participating in activities.