Individual work # 5 (Nastia Varyvoda)
N a s t i aにより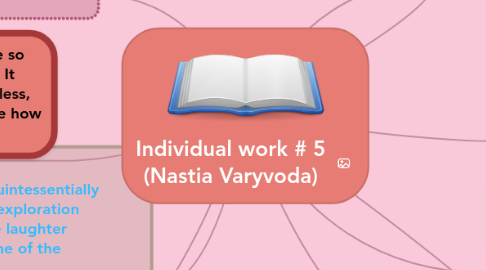 1. The song on radio whenever Phil Connors' day restarts, "I Got You Babe" by Sonny & Cher, was the #1 single in the US for three weeks in August, 1965, as measured by Billboard Magazine.
2. Phil Connors, an arrogant and egocentric Pittsburgh TV weatherman who, during a hated assignment covering the annual Groundhog Day event in Punxsutawney, finds himself in a time loop, repeating the same day again and again.
3. Groundhog Day is a 1993 American comedy film directed by Harold Ramis. It was written by Ramis and Danny Rubin, based on a story by Rubin.
4. Tagline: He's having the worst day of his life... over, and over...
5. In 2006, the film was added to the United States National Film Registry as being deemed "culturally, historically, or aesthetically significant".
6. "Groundhog Day" is a film that finds its note and purpose so precisely that its genius may not be immediately noticeable. It unfolds so inevitably, is so entertaining, so apparently effortless, that you have to stand back and slap yourself before you see how good it really is.
7. I can say that this movie is one of my favorite movies of all time. Beautiful summation. Beautiful soul. He will be missed. As will his words.
8. Phil is played by Bill Murray, and Murray is indispensable; before he makes the film wonderful, he does a more difficult thing, which is to make it bearable.
9. Though this film has a serious message, it is still quintessentially a comedy. But it's a comedy that uses psychological exploration of a fascinating character to make its point. After the laughter has worn down, "Groundhog Day" turns out to be one of the richest and deepest films I've ever seen.
10. The idea comes from 'The Gay Science', a famous book by Friedrich Nietzsche. In his book, Nietzsche gives a description of a man who is living the same day over and over again.