Design Efficiency Analysis Towards Product Improvement for Eco-Friendly Using DFMA Method
Door Ricardo Rodriguez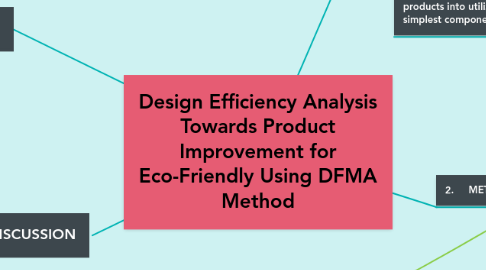 1. CONCLUSION
2. 3. RESULTS AND DISCUSSION
2.1. 3.1. Design Efficiency of the Dry Irons
2.2. 3.2. Design Improvement of Dry Iron B
2.3. Uniqueness
3. 1. INTRODUCTION
3.1. 1.1. Design for Manufacture and Assembly
3.2. 1.2. Design for Sustainability
4. 2. METHODOLOGY
4.1. 2.1. Selection of Product for the Case Study
4.2. 2.2. Overall Steps to Compute Design Efficiency
4.3. 2.3. Analysis of Existing Products for the Theoretical Minimum Part Count
5. Design for Manufacturing and Assembly (DFMA) is a well-established technique in product design for minimizing production costs and development time by designing products into utilizing the simplest components.
6. En consideración de los objetivos de la investigación , se seleccionaron como estudio de caso dos marcas de hierro seco eléctrico que se llaman hierro seco A (producido por una empresa respetable ) y hierro seco B (producido por una empresa no confiable ) .
7. The design efficiency of two different brands of the product was analyzed using Boothroyd Dewhurst DFMA methods for manual assembly.
8. The number of components and assembly method are the important factors affecting the design efficiency of a product.