INTRODUCTION OF CONTRACT
Door Nurina Qama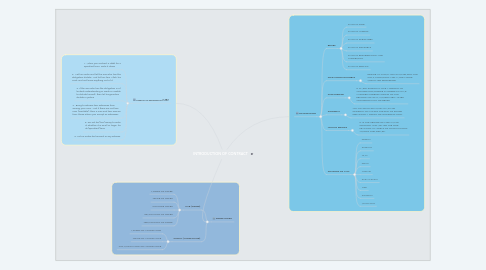 1. FOUNDATION
1.1. BELIEF
1.1.1. FAITH IN GOD
1.1.2. FAITH IN ANGELS
1.1.3. FAITH IN SCRIPTURES
1.1.4. FAITH IN PROPHETS
1.1.5. FAITH IN RESURRECTION AND JUDGEMENT
1.1.6. FAITH IN DESTINY
1.2. GOD CONSCIOUSNESS
1.2.1. DEFINE AS TAQWA OR TO IMPLEMENT THE COMMANDMENTS AND AVOID THOSE WHICH ARE PROHIBITED
1.3. KNOWLEDGE
1.3.1. IT IS VERY ESSENTIAL FOR A PERSON TO ACQUIRE KNOWLEDGE IN ORDER TO HAVE A PROPER UNDERSTANDING OF THE RELIGION OF ISLAM IMMEDIATELY AFTER ACQUIRING FAITH OR BELIEF.
1.4. SINCERITY
1.4.1. ANY TRANSACTION MUST HAVE THE SINCERITY OF TAKING THE RISK OF EITHER OBTAINING A PROFIT OR SUFFERING LOSS.
1.5. HUMAN BEINGS
1.5.1. IT IS THE CENTER OF THE LAW OF CONTROL AND WE ARE THE ONE PRACTICE ALL SORTS OF TRANSACTIONS AMONG THEMSELVES.
1.6. SOURCES OF LAW
1.6.1. QURAN
1.6.2. SUNNAH
1.6.3. IJMA'
1.6.4. QIYAS
1.6.5. IJTIHAD
1.6.6. SAD AL-ZARAI
1.6.7. 'URF
1.6.8. ISTIHSAN
1.6.9. MASLAHAH
2. FORMALITIES
2.1. IJAB (OFFER)
2.1.1. MODES OF OFFER
2.1.2. TENSE OF OFFER
2.1.3. COUNTER OFFER
2.1.4. REVOCATION OF OFFER
2.1.5. TERMINATION OF OFFER
2.2. QABUL (ACCEPTANCE)
2.2.1. MODES OF ACCEPTANCE
2.2.2. TENSE OF ACCEPTANCE
2.2.3. COMMUNICATION OF ACCEPTANCE
3. SURAH AL-BAQARAH 2:282
3.1. 1. When you contract a debt for a specified term, write it down
3.2. 2. Let him write and let the one who has the obligation dictate. And let him fear Allah, his Lord, and not leave anything out of it
3.3. 3. If the one who has the obligation is of limited understanding or weak or unable to dictate himself, then let his guardian dictate in justice
3.4. 4. Bring to witness two witnesses from among your men. And if there are not two men [available], then a man and two women from those whom you accept as witnesses
3.5. 5. Do not be [too] weary to write it, whether it is small or large, for its [specified] term
3.6. 6. Let no scribe be harmed or any witness.